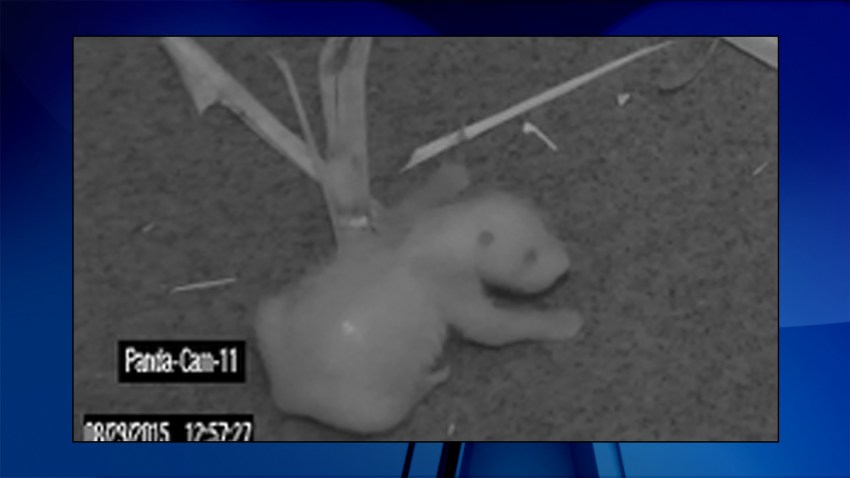 It's a panda! The National Zoo's nine-day-old panda cub is beginning to get his black and white markings.
A pair of newborn cubs were born Aug. 22 to the zoo's female giant panda, Mei Xiang, but the smaller of the two died Wednesday. The zoo has said that the larger, surviving cub is doing well.
Panda cubs are born tiny, nearly hairless and blind. What little fur the newborns have is white. But on Sunday, the zoo released three images captured on its panda cams, showing the cub's new markings are beginning to show up. The cub's ears and patches around his still-closed eyes appear darker, as do his arms. Ultimately, his legs and torso will also darken, but it's unclear in the zoo's photos whether those markings are showing up yet.
Two of the images feature the cub on his own; the other shows him cradled in his mama's arms.
"Mei Xiang put her cub down twice in the last 24 hrs. He's starting to get black markings & is doing well," the zoo wrote Sunday.
Keepers said Friday the surviving cub "looks great" and is healthy, active and nursing. The cub had gained 27.9 grams in the previous 72 hours, zoo officials said Friday.
The zoo announced Friday that the surviving cub and its deceased twin were both male and were fathered by the zoo's male giant panda, Tian Tian. Mei Xiang had been artificially inseminated in late April with semen from Tian Tian and with semen from Hui Hui, a panda living in China.
The little guy is still without a name, though -- panda cubs are traditionally named at 100 days of age. His older sister, 2-year-old Bao Bao, received a naming ceremony in her honor on Dec. 1, 2013.