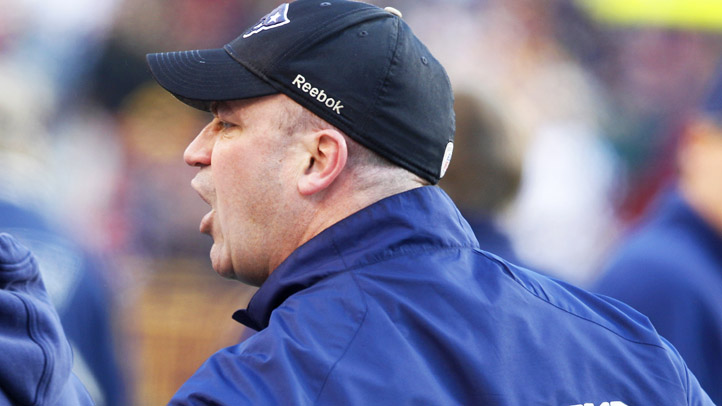 New England Patriots offensive coordinator Bill O'Brien will be Penn State's first new head football coach in nearly a half-century, according to multiple reports.

ESPN, citing unnamed sources, first reported Thursday night that an official announcement would be made Saturday, and that O'Brien would continue as an assistant with the Patriots the rest of the postseason.

Penn State coaches contacted by The Associated Press said they had not received any word late Thursday night about O'Brien or anything else related to the two-month long search to replace Hall of Famer Joe Paterno. The Nittany Lions' leader for 46 seasons was fired Nov. 9 in the aftermath of child sex abuse charges against retired defensive coordinator Jerry Sandusky.

O'Brien has no apparent ties to Penn State, which has been rocked by a scandal that also led to the departure of school President Graham Spanier.

A Patriots spokesman declined to comment. Penn State athletics spokesman Jeff Nelson cited department policy to not comment on reports to "protect the integrity of the search."

O'Brien interviewed on Thursday, his agent said. Joe Linta told The Associated Press, earlier Thursday, that O'Brien was "flattered by the interest."

Penn State officials had termed the search "methodical and deliberate." Acting athletic director David Joyner had said he would like to give Paterno's replacement at least a few weeks to recruit before high school seniors can begin to announce their official intentions to attend college on Feb. 1.

Among other rumored names, Tennessee Titans coach Mike Munchak denied interest in the job three times since Paterno, his former coach, was fired. And Green Bay quarterbacks coach Tom Clements declined to comment when asked if he was interested in the job and would not confirm a report that he had interviewed.

The Patriots are third in the NFL overall in scoring (32.1 points per game), and second in total offense (428 yards) and passing (317.8 yards).

Penn State finished a 9-4 campaign with a 30-14 loss in the TicketCity Bowl to Houston on Jan. 2. The Nittany Lions relied on defense much of the year after the offense struggled with a two-quarterback system.
Copyright AP - Associated Press