A 33-year-old Delaware woman died early Sunday when her sports utility vehicle crashed through the front of a New Castle animal shelter.
Latoya Cooper, identified by family at the scene, died about 12:15 a.m. Investigators did not immediately give a cause for the crash.
Cooper and three cats at the Brandywine Valley Society for the Prevention of Cruelty to Animal shelter on South Street may have died from smoke and fire that broke out in the moments after the crash.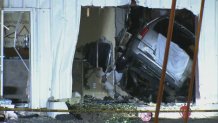 Cooper's mother came to the crash scene a few hours later and tearfully remembered her daughter, who she said is a mother of five.
"I felt something at two o'clock in the morning. I felt some kind of pain," Cooper's mother said. "Maybe it was her."
Nearly 100 other animals were displaced after the shelter was deemed uninhabitable. SPCA officials said the animals are being temporarily housed in other nearby shelters.
"The BVSPCA needs the community's help during this crisis," the shelter said in a statement. "Anyone who has been thinking of adopting should visit one of the other BVSPCA adoption locations: the Georgetown, DE, Campus; the PetSmart Everyday Adoption Center in Dover, DE; or the West Chester, PA. Campus, Sunday hours are 10am to 5pm. Financial donations are also needed to help with the additional cost to care for the animals and the damage to the building."