Prepare for Twitter's newest parody account: @PharrellShorts. (At the time of publishing, the username is still available! So if you're into tweeting jokes from the perspective of a singer's shorts, have at it!)
Pharrell Williams ditched the giant hat that he wore at the Grammys and opted for a different fashion statement at today's Academy Awards: Shorts. To be specific, Lanvin tuxedo shorts--that's a full tuxedo on top, shorts on bottom.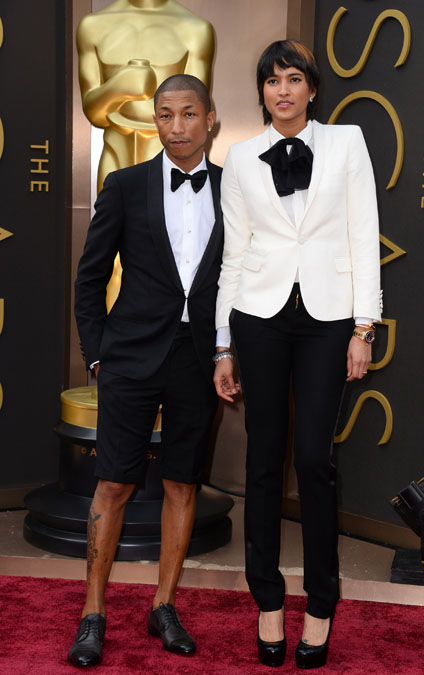 But the bold fashion statement isn't without risks: "That scared me so much," Pharrell startled mid-interview. "Something dropped on my leg and I almost jumped over there." It was another woman's dress grazing against his exposed shin. Hey, it hurts to be beautiful.
LISTEN: Pharrell debuts new song with Miley Cyrus, "Come Get It Bae"
Hopefully Pharrell's shorts will speak volumes tonight, because he seems truly speechless.
"Honestly, it's a pinch yourself moment," he told Ryan Seacrest about attending the Oscars, where he's nominated for his original song, "Happy" from "Despicable Me 2."
"First and foremost [I have to thank] God. Or the Universe, whatever way you'd like to look at it," he continued. "But also, it's the people. It's them who are voting, it's them who are buying the song."
He continued, "It's become a movement and I'm just so humbled by it. Look where's it's taken me? It's brought me so far."
PHOTOS: Check out all the stars arriving on the red carpet at the 2014 Oscars!
Copyright E! Online