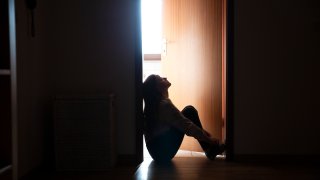 Financial woes, coupled with a barrage of horrifying scenes from Ukraine as Russia continues its invasion, have pushed a majority of Americans to unprecedented levels of stress, according to a new report from the American Psychological Association.
The association's annual "Stress in America" poll, published Thursday, found that U.S. adults — already weary from two years of the COVID-19 pandemic — are now overwhelmingly troubled by inflation and the war in Ukraine.
According to the results, 87% of those surveyed cited rising costs of everyday items, such as groceries and gas, as a "significant source of stress."
The same high percentage said their mental health was greatly affected by what has felt like a "constant stream of crises without a break over the last two years." And 84% said the Russian invasion of Ukraine is "terrifying to watch."
"We don't usually see 80% of people telling us that a particular stressor is stressful for that many individuals," said Lynn Bufka, a clinical psychologist and the APA's associate chief for practice transformation.