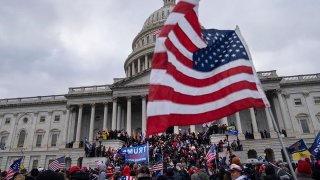 Defense attorneys for five Proud Boys leaders intend to call former President Donald Trump to testify as a witness in their clients' ongoing seditious conspiracy trial.
Lawyers for Joe Biggs, a Proud Boys organizer from Florida, unveiled a subpoena on Thursday that would compel Trump's appearance in March and said they would seek the Justice Department's assistance with serving Trump.
The Trump campaign did not immediately respond to a request for comment.
It remains unclear if the attorneys' effort will succeed, however. The defense team will have to deal with the logistical difficulties of serving a former president and current presidential candidate. Trump could also move to quash the subpoena, leading to more litigation.
Read more at NBCNews.com.