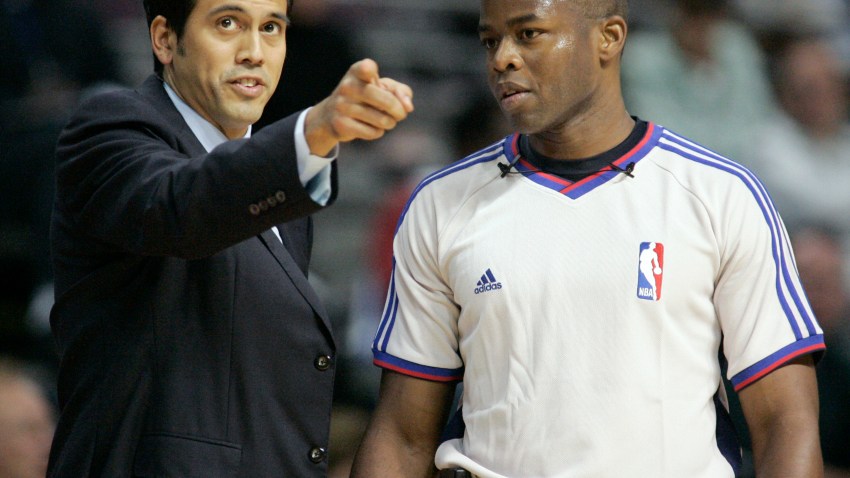 This wasn't your typical chastisement of the officials.
But it is the reason why the NBA can't pretend it doesn't have an issue on its hands with its labor stalemate with its referees.
With 1 minute, 21 seconds to play in Monday's Heat-Pistons exhibition at the Palace of Auburn Hills, Miami coach Erik Spoelstra no longer could contain himself.
"Hey!" he barked to the three referees wearing Nos. 148, 120 and 159. "Pay attention out there."
That was after, in a five-point game, the replacements had allowed Pistons point guard Will Bynum to stroll to the free-throw line and knock down two foul shots. Problem was, Bynum wasn't fouled by the Heat's Shavlik Randolph, Maceo Baston was.
So playing the moment shrewdly, the Heat coaching staff first waited to see if Bynum would miss. After he didn't, they called attention to the blunder, one, by rule, that is allowed to be rectified even after the points are put on the board.
After a huddle by the trio wearing the preposterous officiating ID total of 427 (by comparison, Joey Crawford, Ronnie Garretson and Jimmy Clark would add up to 33), Maceo Baston was correctly sent to the line. He missed both attempts.
Granted, it certainly wasn't an unprecedented blunder. But recall that in the first exhibition officiated by replacement refs this preseason, there also was an attempt at such a foul-line switcheroo in Jazz-Nuggets before it was foiled.
And that, as much as grousing about actual calls, is where the officiating impasse will lead the league.
If a relative coaching neophyte such as Spoelstra can grab the upper hand in his first encounter with the replacements, imagine what Phil Jackson, Don Nelson and Larry Brown might achieve when the lights go on for real.
It's one thing to advance officiating prospects from the D-League and WNBA. It certainly is a quality pipeline. But under normal working conditions, those promotions would come alongside a Steve Javie or Danny Crawford or Scott Foster, someone who would prevent the newcomers from being played like saps.
Instead, if you're concerned about Shaq's free-throw shooting dragging down the Cavaliers, don't worry. Apparently Mo Williams will be taking those, instead.
Copyright MSNBC - MSNBC