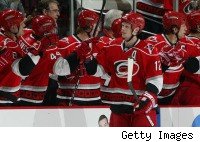 A former circus tiger from Greece—that found its home halfway around the world in San Diego— passed away at the sanctuary where he lived on Friday.
The tiger named Phevos first arrived at San Diego International Airport in December 2014 to live at the Lions, Tigers & Bears animal sanctuary in Alpine. The 17-year-old tiger died at the sanctuary Friday after a period of declining health.
"The loss of Phevos is heartbreaking to our keepers, staff and volunteers," the sanctuary said in a statement. "Our team is honored to have been able to provide Phevos with loving care and attention for the last year of his life. We are deeply appreciative of all who helped play a role in providing a better life for Phevos by helping with his rescue and care."
Keepers noticed Phevos had slowly started showing signs of pain and become increasingly withdrawn from his regular activities. He had also begun to lose his appetite, making it difficult for professionals to administer medication.
Sanctuary officials decided "with a heavy heart and much contemplation" to euthanize Phevos.
Phevos had a long journey before he settled in San Diego. He was born in captivity and used in an Italian touring circus group for many years. Phevos was then seized from the circus group in 2002 along with six other tigers, according to a statement from Lions, Tigers & Bears.
Phevos and longtime companion Athena lived at the Trikala Zoo outside of Athens, Greece for many years. Phevos' longtime tiger companion died in March 2014 from neglect after having an untreated paw wound.
The animal sanctuary was approached by a United Kingdom citizen, David Barnes, who initially helped place the tigers at the Athens zoo more than a decade ago. Barnes reached out to the Alpine ranch after seeing deplorable conditions at the zoo, which came after the economic crisis in Greece.
At his home in Alpine, Phevos liked to spend time with his 2-year-old tiger friend, Maverik. He also liked cooling himself in grass, lounging in the shadows of his pool and taking naps.
"Phevos was a gentle giant, with a calm and reserved demeanor," the sanctuary said in a statement.
A memorial for Phevos will be held on Saturday, Oct. 3 at 12:30 p.m. The sanctuary asks those that wish to attend to RSVP by Friday, Oct. 2 at 5:00 p.m. by calling (619) 659-8078, option 2, or by emailing members@lionstigersandbears.org