A shocking elimination in women's soccer, Katie Ledecky shines and American gymnasts earn another honor. In case you missed any of the excitement, here are some of Day 7's memorable moments.
Soccer Stunner as U.S. Falls to Sweden
The American women had won three gold medals in consecutive Summer Games but on Friday they fell hard, losing to Sweden 4-3 on penalties following a 1-1 draw in the quarterfinals.
It was the first time in Olympic history that the American women did not reach the gold medal match. Until now, they had won a medal in every Olympics tournament since 1996.
The defeat came against the team's former coach, Pia Sundhage, who led the team to victory in 2008 and 2012, before returning home to Sweden.
Afterward, Hope Solo, the American goalkeeper, was castigated for calling the Swedish team "cowards."
"We played a bunch of cowards," she said. "The best team did not win. I firmly believe that."
Responded Sundhage: "I don't give a crap. I'm going to Rio, she's going home."
Ledecky Is Victorious, Phelps Falls Short
Katie Ledecky became the first Olympic swimmer Friday to sweep the 200-, 400- and 800-meter freestyles since 1968, winning the 800-meter race far ahead of the pack.
Ledecky broke her own world record to defend her first gold medal, which she won in London in 2012.
This was Ledecky's fourth gold medal of the Rio Games, plus she has won a silver. Only four other female swimmers have won four gold medals in a single Olympic Games, most recently Missy Franklin in London.
The last swimmer to sweep the three events was the U.S.'s Debbie Meyer at the 1968 Mexico Games.
In an upset, Singapore's Joseph Schooling defeated Michael Phelps in the 100-meter butterfly Friday. Phelps took silver in a rare three-way tie with Chad le Clos and Laszlo Cseh.
Schooling, who had beaten Phelps in the 100-meter butterfly semifinal, won Singapore's first gold medal.
Schooling thwarted Phelps' attempt to become the first Olympic athlete to take four consecutive gold medals in two different events.
In the 200-meter individual medley Thursday night, Phelps became the first swimmer to win four consecutive victories in the event.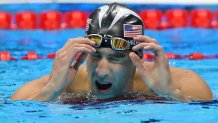 Phelps now has 22 gold medals, with 13 in individual races. He has 27 medals overall.
[NATL] The Many Faces of Michael Phelps
At 35, the U.S.'s Anthony Ervin became the oldest swimmer to win an individual gold medal. Ervin was first in the men's 50-meter freestyle.
American Shooter Goes Six for Six
U.S. skeet shooter Kim Rhode became the first woman to medal in six consecutive Olympic Games when she won a bronze on Friday.
On the men's side, only Italian luger Armin Zoeggeler has accomplished the same feat.
Rhode's record-breaking win concludes a streak that began with a double-trap gold medal at the Atlanta Games in 1996 when she was 17. She switched to skeet shooting when double-trap was dropped from the Olympics.
"Every emotion hits you at once," Rhode told The Associated Press. "You want to run, scream, cry and you just don't know which one to do first."
In Friday's competition, the Italian shooters dominated, with Diana Bacosi taking the gold and her teammate, Chiara Cainero, winning the silver.
Rhode beat Meng Wei of China in a shoot-off in the bronze-medal match, after both hit 15 of 16 targets.
"Kimberly is great; she is the best women's shooter," Cainero said. "It was an honor to be here when she made history."
Rhode overcame four years of pain following the London Games to succeed on Friday. She had a difficult pregnancy, emergency gall bladder surgery and a punishing recovery. Her husband was ill, her father got injured.
She is planning to compete in the 2020 Summer Games in Tokyo.
Cereal Box Fame for Women Gymnastics
The champion U.S. women's gymnastics team will be immortalized in all their gold medal glory on a commemorative Special K Red Berries box.
The "Final Five" were guests Friday on "Today," where all-around gold medalist Simone Biles got to unveil the cereal box.
Those hoping to get their hands on of the "gold medal edition" boxes will have to join the KelloggsFamilyRewards.com website. Kellogg's, which is an Olympic sponsor, announced that it would be giving away the boxes for free to those who sign up while supplies last.
Middle East Tensions Flare
Egyptian judoka Islam El Shehaby elicited loud jeers from the audience Friday after refusing to shake hands with his Israeli opponent.
El Shehaby lost to Israel's Or Sasson in a first-round match with about a minute and a half left in the bout.
The Egyptian backed away and shook his head when Sasson extended his hand. A referee called El Shehaby back to the mat to perform a mandatory bow, which he fulfilled with a reluctant nod.
Before the match, El Shehaby, an ultraconservative Salafi Muslim, faced online pressure to forfeit the match, The Associated Press reported.
This is not the first instance of Middle Eastern politics spilling into the Rio Games.
Israeli and Lebanese athletes clashed last Friday when the Lebanese team prevented Israeli athletes from boarding a bus the Israelis were expecting to share to get to the opening ceremony.
Ethiopia's Ayana Breaks Track Record
Ethiopia's Almaz Ayana broke the world record for the 10,000 meter as she won a gold medal in 29 minutes, 17.45 seconds.
It was the first track and field medal event at the Rio Games.
The previous record of 29:31:78 was held by China's Junxia Wang, who set it in 1993.
The silver medalist, Vivian Cheruiyot of Kenya, the 2015 world champion, finished more than 15 seconds aftter Ayana. Tirunesh Dibaba of Ethiopia, the 2008 and 2012 Olympic champion, got the bronze.
For the first time in Olympic history the running track is colored blue.
Updates
[[389971142, C]]
Boxer Nico Hernandez ended a medal drought for United States, taking home a bronze along with Cuba's Joahnys Argilagos. He is the U.S.' s first light flyweight medalist in nearly 30 years. Hernandez lost his chance at the gold to Uzbekistan's Hasanboy Dusmatov.
Olympic divers missed morning practice after the green-hued diving well was closed so it could be cleaned. The larger pool next to it that is used for water polo and synchronized swimming has also turned green. The diving well re-opened just 2 1/2 hours before the start of the women's 3-meter competition. Officials continued to insist the water was safe.
An Olympic security officer who was shot in the head after he got lost in Rio has died. Brazil announced the death of Helio Vieira early Friday morning. Officers from Brazil's national security force were using GPS to navigate unfamiliar streets when they took a wrong turn. Their truck was sprayed with bullets, the latest crime to mar the Rio Games.