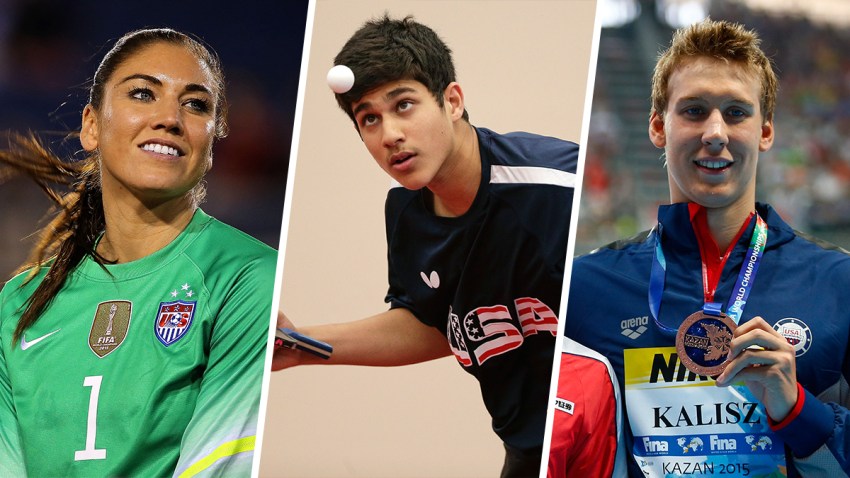 The Rio Games got into full swing Saturday just hours after Friday night's high-energy opening ceremony. Dozens of competitions are being held Saturday in over 20 Olympic sports, ranging from archery to basketball, cycling, gymnastics, rowing, soccer, swimming and volleyball, among others. Twelve gold medals will be awarded.
Here's what to watch now on day 1 of the Olympics. Check back for more live streams throughout the day.
MEN'S ARCHERY:
U.S. archers Brady Ellison, Zach Garrett and Jake Kaminski aim for gold in a matchup against South Korea at 4:07 p.m. ET.
SWIMMING:
Medals will be awarded in four swimming events. The men's 400m individual medley final is scheduled for 9:03 p.m. ET, and the men's 400m freestyle final is at 9:30 p.m. ET. Ryan Lochte and Michael Phelps are not competing in the individual medley this time around. Chase Kalisz, 22, who's Phelps' training partner, has the best chance to medal.
The women's finals for the 400m individual medley is set for 9:49 p.m. ET and the 4x100m freestyle relay final is at 10:24 p.m. ET. Katie Ledecky is going for a sweep of the longer freestyle races but she will also anchor the women's 4x100-meter freestyle relay on Saturday.
GYMNASTICS:
Qualifying for men's team, individual all around, and individual event finals takes place today, started at 9:30 a.m. ET, with the U.S. team looking to redeem itself after placing fifth at the London games. Spearheading the team is 23-year-old Sam Mikulak, joined by returning Olympians Jake Dalton and Danell Leyva, along with Chris Brooks and Alex Naddour.
FENCING:
In the Women's Individual Epee, Courtney Hurley lost 13-14 to gold medalist Yana Shemyakina of the Ukraine. Hurley's sister, Kelley, was also knocked out. Brazil's Nathalie Moellhausen beat her 12-15 in what was Kelley Hurley's first Olympic start in the individual competition. The bouts continue all day.
BOXING:
It's the first time amateur boxers get a chance to compete against professionals at the Olympics. The U.S. team doesn't have any professionals with all six Americans making their Olympic debuts. First boxing round got underway at 10 a.m. ET.
SOCCER:
Goalkeeper Hope Solo will appear in her 200th game for the U.S. women's national team in a group stage match against France at 4 p.m. ET. She'll be the first goalkeeper in history to reach the milestone in international play. This latest milestone comes after Solo became the first goalkeeper with 100 international shutouts when the United States defeated South Africa 1-0 at Chicago's Soldier Field. It was also her 150th career win.
TENNIS:
Novak Djokovic and Nenad Zimonjic of Serbia face off against Croatia's Marin Cilic and Marin Draganja in the first round at 4 p.m. ET.
Venus Williams faces Kirsten Flipkens of Belgium, a 2013 Wimbledon semifinalist, in the first round at 5:45 p.m. ET.
HOCKEY:
U.S. women's hockey team goes against gold-medal contender Argentina in their first match of group play at 4 p.m. ET.
HOOPS:
The juggernaut of the USA men's basketball team, led by Carmelo Anthony , plays China. Tip is at 6 p.m. ET. Team USA aside, there are plenty of hoopsters from across the world to watch.
WOMEN'S BEACH VOLLEYBALL:
Three-time gold medalist Kerri Walsh Jennings, 37, and 2012 silver medalist April Ross, 34, begin pool play at 11 p.m. ET, against Australians Mariafe Artacho, 22, and Nicole Laird, 23.
To watch all competitions live, visit nbcolympics.com/live-stream-schedule.
Copyright AP - Associated Press