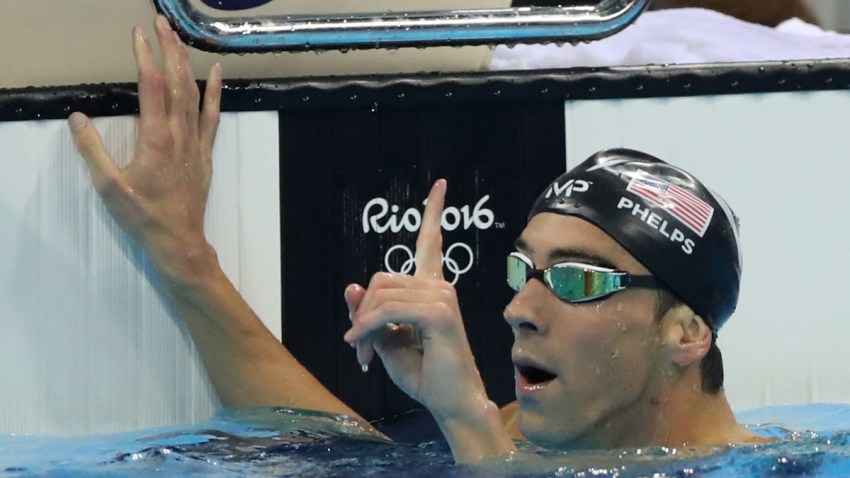 Michael Phelps won two gold medals on Tuesday night, regaining his 200-meter butterfly crown before he anchored the United States in the 4x200 freestyle relay.
Phelps now has 21 Olympic gold medals.
Handed a big lead by Conor Dwyer, Townley Haas and Ryan Lochte, all Phelps had to do was glide home while the crowd stood and roared.
After he touched, Phelps accepted a hug from Britain's James Guy, then straddled the lane line and gestured to fans chanting "U-S-A!"
Earlier, Phelps reclaimed his Olympic crown in the 200 fly by an even smaller margin than the one he lost it by, beating Masato Sakai by .04 seconds. In London, South Africa's Chad le Clos out-touched Phelps by .05 seconds.
"I don't want to say revenge, but that's kind of what it was," Phelps said. "I wanted that race bad."
Even before the semifinals, television cameras caught Phelps with a serious game face before the swim as he stared in the direction of Le Clos, a moment Twitter users immediately flipped into memes poking fun at Phelps' intensity.
It paid off for Phelps, whose 21 Olympic gold medals are more than many countries have in their history. He is tied with Ethiopia for 21 golds at the Summer Games.
Lochte won the sixth Olympic gold medal and 12th overall of his career in the race.
Earlier, Katie Ledecky outfinished sprinter Sarah Sjostrom to take her second gold medal of the 2016 Olympics with a win in the 200-meter freesyle on Tuesday night.
Sjostrom moved up on Ledecky's left in the final 25 meters, and appeared close to taking the lead, but Ledecky surged ahead to win in 1:53.73. Emma McKeon of Australia was third, 0.16 seconds behind Sjostrom's 1:54.08.
The 200 freestyle is probably only the third-best event for the 19-year-old, who won the 800 free in 2012 and the 400 here on Sunday night.
Ledecky and Sjostrom aren't the only women dominating at the pool.
Katinka Hosszu of Hungary won her third gold medal of these Olympics, beating Siobhan-Marie O'Connor of Britain by 0.30 seconds to win the 200-meter individual medley in an Olympic-record time of 2:06.58
The USA's Maya DiRado won bronze, her second medal in Rio.
Phelps also took aim at swimmers linked to doping, an issue that has been at the forefront on the heels Russian doping scandal. Harsh words have been directed as athletes such as Yulina Efimova and Sun Yang, who previously served doping suspensions.
Phelps joined the chorus of those demanding a clean competition.
"You're probably going to see a lot of people speaking up more. I think something needs to be done," he said. "It's sad that today in sports in general, not just only swimming, there are people who are testing positive who are allowed back in the sport — and multiple times.
"It breaks my heart and I wish somebody would do something about it."
Also on the program for Tuesday evening: semifinal events for the men's 100 freestyle and 200 breaststroke and women's 200 butterfly.
American Caeleb Dressel qualified for the freestyle semifinal earlier Tuesday. Teammate Nathan Adrian, the defending Olympic champion, secured the final spot in that group of 16.
Cammile Adams and Hali Flickinger of Team USA secured spots in the butterfly semifinal.
And Americans Kevin Cordes and Josh Prenot advanced in breaststroke.
Copyright AP - Associated Press