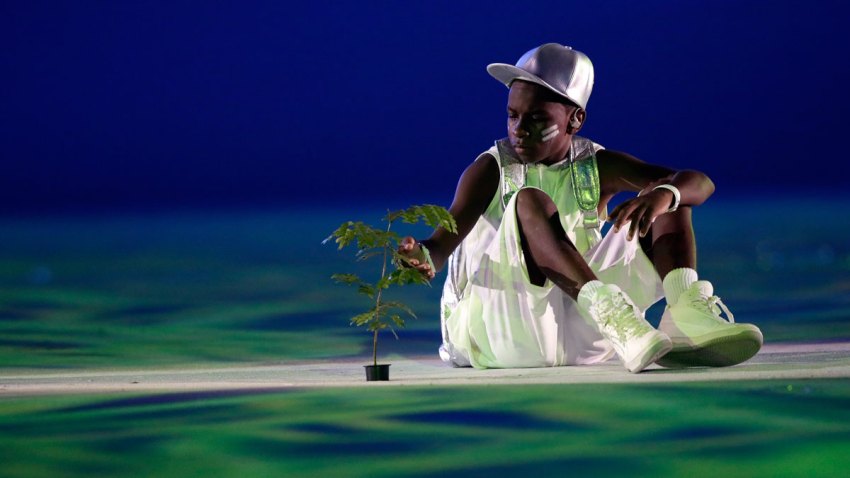 Four years after London celebrated the start of the Industrial Revolution at its opening ceremony, Brazil stopped the party Friday night to talk about some of its effects.
After a spectacular start to the opening ceremony that went from mellow guitar anthem to tumbling parkour athletes to a raucous dance party, the hosts of the 2016 Olympics did a presentation — with no music — about global warming while they had the attention of the entire world.
The dramatic change in tone appeared intended to highlight the seriousness of the issue, and the display featured chilling images of the ocean rising to inundate places such as Amsterdam, Dubai, Shanghai, Florida — and, yes, Rio de Janeiro.
As the home to the world's largest remaining rainforest in the Amazon, Brazil is a key to slowing the rate of global warming worldwide, despite being responsible for burning an area almost the size of Texas since 1970.
The Amazon rainforest is crucial due to its unmatched biodiversity. Also, it's effective at storing carbon and keeping it out of the atmosphere, the forests in Brazil are usually destroyed to make way for cattle ranching, which releases carbon into the atmosphere.
As part of the theme, each athlete symbolically planted a seed while entering the Maracana stadium. A dance routine featured a solitary seedling, and "The Flower and the Nausea" by Brazilian poet Carlos Drummond de Andrade, about a flower growing through a city's asphalt, was read. Later, performers caused stylized trees to emerge from shining mirrored boxes to form five green Olympic rings.
The seeds will later be planted as part of an Olympic forest. Additionally, each country's delegation in the Parade of Nations was escorted by a child carrying a tree seedling in a pot.
Four years ago in London, British actor Kenneth Branagh played the role of engineer Isambard Kingdom Brunel, a key figure who helped advance industry in Britain and worldwide. In character, Branagh read from Shakespeare's The Tempest.