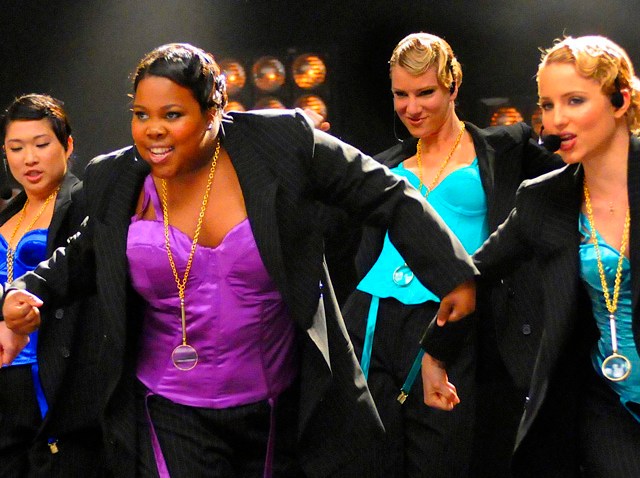 World War II drama "The Pacific," upstart comedy "Glee" and drama favorite "Mad Men" were the big winners when the Emmy finalists were announced Thursday.
"The Pacific," a 10-part HBO miniseries produced by Steven Spielberg and Tom Hanks that gave an unflinching look at the war, led the way with 24 nods, while "Glee" the rookie show about high school misfits, and "Mad Men," the 1960s era drama about the advertising business, had 19 and 17 each.
Stalwarts Alec Baldwin and Steve Carell will face competition from Larry David of cult favorite "Curb Your Enthusiasm" and Matthew Morrison of "Glee" in the lead actor on a comedy series competition, where scandal-ridden Charlie Sheen dropped out.
For the complete list of nominees, go to emmys.com.
Edie Falco ("Nurse Jackie"), Julia Louis-Dreyfus ("The New Adventures of Old Christine") and Amy Poehler ("Parks and Recreation") are among the nominees battling frequent winner Tina Fey of "30 Rock" for best lead actress in a comedy.
"Glee" and fellow rookie "Modern Family" landed multiple nods for their supporting cast members. "Glee's" Chris Colfer and Jane Lynch were named, as were "Modern Family's" Sofia Vergara, Julie Bowen, Jesse Tyler Ferguson, Eric Stonestreet and Ty Burrell.
Nominees for the 62nd Primetime Emmy Awards were announced early Thursday by the Academy of Television Arts & Sciences, with help from Joel McHale of "Community" and Sofia Vergara of "Modern Family." Vergara's show, as well as fellow newcomer "Glee," could end the long-running domination by comedy stalwarts "30 Rock" and "Two and a Half Men."
Sheen's role on "Two and a Half Men" went unrecognized after a turbulent year that included his Christmas Day arrest on domestic violence charges and subsequent unraveling of his marriage to Brooke Mueller amid reports of substance abuse.
Bryan Cranston of "Breaking Bad," Matthew Fox of "Lost," Hugh Laurie of "House" and Jon Hamm of "Mad Men" were among the best actor in a drama nominees. Hamm picked up another nomination for his guest turn on "30 Rock," as Dr. Drew Baird. Other best guests in a comedy nominees included Neil Patrick Harris ("Glee"), "Will Arnett ("30 Rock") and Fred Willard ("Modern Family").
"Lost," in its final season, landed several nods, including Terry O'Quinn and Michael Emerson for supporting roles in a drama.
Arch-rivals Conan O'Brien and Jay Leno won't square off with dueling nods for their turns as host of NBC's "The Tonight Show," as only O'Brien was nominated. O'Brien's seven-month run at the helm of the show ended as ratings slid and Leno was brought back. Fellow late night talker David Letterman was not nominated after a turbulent year that saw him use his stage to discuss his affair with a staffer and a blackmail attempt against him.
The Emmy Awards will air Aug. 29 on NBC, with Jimmy Fallon hosting.