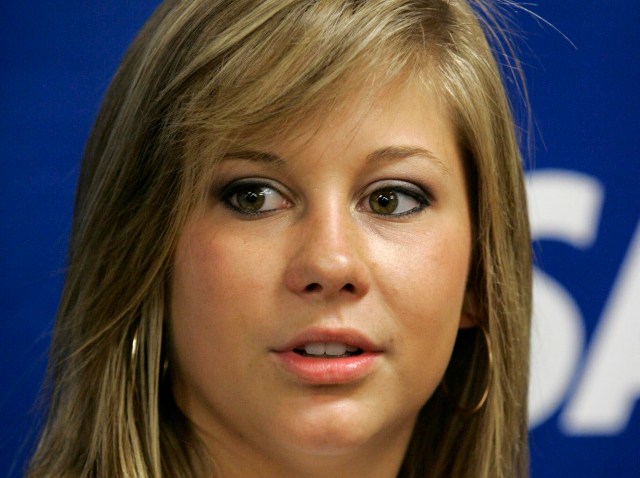 Olympic gold medalist Shawn Johnson testified that learning a stalker had shown up at the studio following her "Dancing With the Stars" performance made her "really scared" and she contemplated quitting the show. Instead, she went on to win it.
Johnson's voice cracked Thursday as a prosecutor showed her a knife found in the car owned by Robert O'Ryan, the man accused of breaking onto a studio lot where Johnson had performed.
"I didn't know him," Johnson said. "He was a stranger to me. To see somebody had that much kind of obsession, it made me really scared."
Prosecutor Wendy Segall also showed the 18-year-old Johnson a handgun, shotgun and bulletproof vest allegedly found in O'Ryan's car during his March arrest.
Prosecutors say O'Ryan, 36, harbored a dangerous obsession for Johnson and traveled from Florida to Los Angeles with the hope of meeting and marrying her. Johnson was 17 at the time.
O'Ryan has pleaded not guilty by reason of insanity to felony stalking and burglary charges. He sat quietly and showed no reaction during the 23 minutes Johnson spent on the witness stand.
Johnson recounted that police and her parents told her a man had been armed and she needed a bodyguard.
"They didn't want to tell me too much to scare me, but of course it did," Johnson said.
Johnson calmly answered questions posed by prosecutors and O'Ryan's public defender, saying she was nervous about appearing in court.
Segall asked Johnson about poems O'Ryan allegedly wrote about the athlete, some of which had her name hyphenated with O'Ryan's.
One of the poems, shown in court Monday, professed unwavering love for Johnson. "I feel quite lucky," the poem read, "that we fight happy, I want everything to go your way, and this is how I pray, that we will be together to stay .... and no matter what you do, I will always love you."
Authorities say they found numerous other writings addressed to Johnson and gifts for her and her family in O'Ryan's car. Prosecutors also say they found a piece of a paper with an Iowa address for a person named Shawn Johnson, but it was not the gymnast's address.
Johnson said she considered resigning from "Dancing With the Stars" and moving back to Iowa after O'Ryan's arrest. However, she stayed on the show and eventually won her season.
Johnson won a gold medal in the 2008 Beijing Olympics.
O'Ryan has been jailed since he was arrested for investigation of jumping a fence at the studio lot.
He could face up to four years in prison if convicted. He also could face two years in jail if he is convicted of two misdemeanor concealed weapons violations.
If O'Ryan is convicted, a judge will then determine whether he is legally insane. His attorney, Judith Greenberg, said in opening statements that O'Ryan was a well-educated engineer before he developed a mental illness several years ago.
In a tape of an interview with police played in court Thursday, O'Ryan asks a detective whether he believes in ESP. O'Ryan told the officer he used ESP to communicate with numerous people on television, including rappers Ludacris and Lil Jon and some daytime soap opera stars.
O'Ryan said he started communicating with Johnson telepathically when she competed in the Beijing Olympics.
Prosecutors are expected to conclude their case Thursday.
O'Ryan has waived his right to a jury trial and his fate will be decided by Los Angeles Superior Court Judge Michael Pastor.

Copyright AP - Associated Press