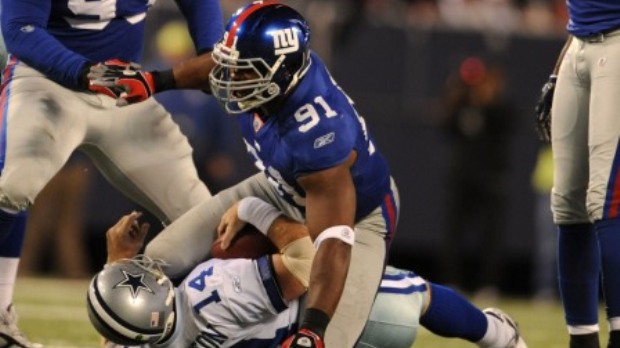 The NFL doesn't officially announce the Pro Bowl rosters until later this afternoon, but a mole has tipped off Tom Rock of Newsday about how the Giants fared in the voting. Six members of Big Blue are on the roster, with Justin Tuck and Chris Snee each making the NFC squad in a starting role. Eli Manning also made the team, and he won't have to get familiar with another man's hindquarters as center Shaun O'Hara will also be making the trip. All four of them are first-time selections.
The other two Giants, however, have Pro Bowl experience. Funny thing is, that experience came during the Clinton administration. Punter Jeff Feagles last made the trip after the 1995 season, representing the Cardinals, and his 13-year gap between appearances would have been a record if not for Lawrence Tynes' knee injury. That injury caused the Giants to sign John Carney who made the Pro Bowl a year before Feagles and has not been back since.
The Giants only had one representative last season, so they should feel quite pleased with how their season's been recognized. Still, there are a few Giants who have a legitimate beef with their exclusion from the team.
David Diehl has had a fantastic season at left tackle, keeping Eli Manning out of trouble (except for the Dallas game, of course) and helping create space for running backs. That's the premier position on the offensive line, though, which means there are bigger names ahead of Diehl in line for spots. Since we're on the topic of blockers, fullback Madison Hedgecock has been a key part of the team's running game as well. Rock didn't name the NFC's fullback, but it's hard to imagine he is a better blocker than Hedgecock.
On defense, Fred Robbins' work at tackle shouldn't go overlooked. His work in the middle of the line made it very difficult for opposing offenses to get in gear, and his pass rushing ability opened a lot of room for Tuck to operate. It's no coincidence that the Giant pass rush slowed down when Robbins went down with a variety of injuries.
UPDATE: The Giants have announced offically that all six players are on the team. Additionally Hedgecock, tight end Kevin Boss, Antonio Pierce and special teamer Chase Blackburn are first alternates. Robbins is a second alternate, while Diehl and Brandon Jacobs are third alternates.
Copyright FREEL - NBC Local Media