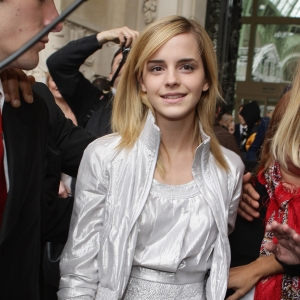 Emma Watson has spent half of her life playing Hermione Granger alongside Daniel Radcliffe and Rupert Grint in the "Harry Potter" series. But in a new interview on the BBC's "Friday Night with Jonathan Ross," the 19-year-old revealed kissing Rupert, who plays teen wizard Ron Weasley, was just about the most uncomfortable filming experience she's had in her career so far.
"We did the kiss two weeks ago and it was the most horrible thing I've ever had to do," Emma told Jonathan about a smooching scene in the final film from the magical franchise, "Harry Potter and the Deathly Hollows," which is being shot now. "There are millions of girls out there who would probably chop their left arm off to kiss [Rupert], but it just felt like incest. That's the only way I can describe it."
VIEW THE PHOTOS: Scenes From 'Harry Potter and the Half-Blood Prince' & 'Harry Potter and the Deathly Hallows!'
U.S. & World
Emma said she closed her eyes during their big screen lip-lock, but when the script required them to open their peepers following the make-out moment, she burst into laughter.
"It was fine that I was actually kissing him because I had my eyes closed so I could not think about the fact that it was him. The worst bit is when we had to open our eyes and look at each other because then I was just like, [laughter] and then we couldn't keep going. But we did it in the end. Six takes — not bad. It could be worse."
VIEW THE PHOTOS: The Brit Pack: Hot Shots Of Stars From The UK!
What is worse for Emma is the real life "Harry Potter"-inspired pick-up lines that young men like to use on the actress.
"It's amazing how many — I don't know if you can even call them chat-up lines — [men construct] out of broomsticks and wands," Emma recounted. "They come up and tragically… think I never would have heard this before. They come up and they go, 'Oh, you're the girl from 'Narnia' aren't you?' Obviously they know that I'm not. They think that it's funny… It's not actually funny."
Luckily for Emma, these days she has less time to put up with such nonsense as she has a boyfriend.
VIEW THE PHOTOS: Harry Potter's Yearbook
"I do actually, yes," she said coyly.
"Harry Potter and the Half Blood Prince," is due out on July 15.
Related Content from AccessHollywood.com:
PLAY IT NOW: ACCESS EXTENDED: 'Harry' Gets Handprints
PLAY IT NOW: Preview: Maria & Emma's Shopping Excursion

MORE ACCESS ON THESE TOPICS: Emma Watson - Harry Potter - Daniel Radcliffe - Young Hollywood - Brits

Copyright NBCAH - Access Hollywood