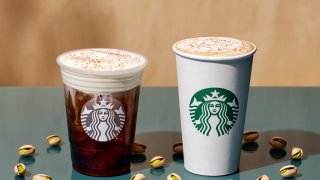 With the holidays firmly behind us, Starbucks has shifted from holiday offerings to winter beverages and treats with the launch of its winter menu this week. But not all the items are meant to warm you up.
Starbucks' winter menu will officially be launched in shops nationwide Tuesday, a release from the coffee giant says, with "go-to winter beverages to accompany the season's sweater-weather."
Two customer favorites will be making their return to menus, while one item will be making its debut to the winter lineup.
The Pistachio Latte is back for its third year, Starbucks says, with "cozy flavors of sweet pistachio and rich brown butter paired with espresso and steamed milk." Also making a return for a limited time is Starbucks' Red Velvet Loaf, a vanilla cake swirled with classic red velvet cake and topped with "white chocolatey icing."
And although many winter drinks are served piping hot, Starbucks' newest winter beverage isn't one of those.
The Pistachio Cream Cold Brew, the release says, made up of Starbucks Cold Brew base "sweetened with vanilla syrup" and the "a topping of silky, nutty pistachio cream cold foam and salted brown buttery sprinkles," is for those who prefer cold coffee, no matter the weather.
"Pistachio is the perfect flavor to follow the holidays and carry us through the winter season," said Rosalyn Batingan on the Starbucks beverage team in a post. "Its smooth and sweet profile delivers a feeling of warmth and coziness, even when served cold." 
Starbucks winter menu food and beverages are available at stores nationwide for a limited time, while supplies last, the company says.