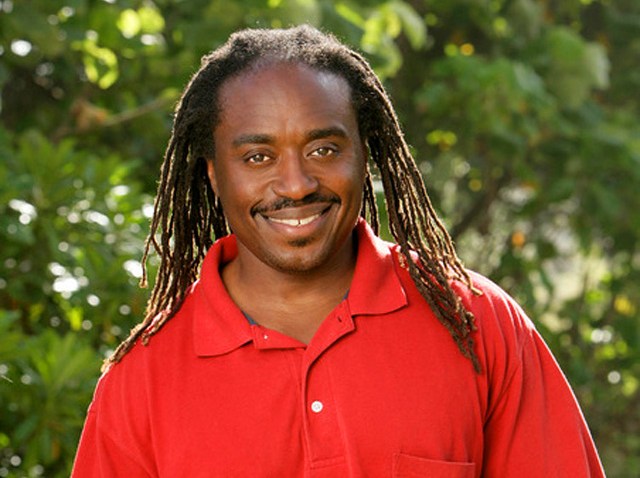 Your body has spoken
Russell Swan, the hard-working leader of Galu, was removed out of the game after passing out during the reward challenge, but he kept fighting until the end. Lying on the ground with medical personnel around him and a tear-stained cheek, Russell said, weakly, "I'm good, let's go." But he wasn't. When he sat up, his heart rate dropped from 97 to 68, and he was back on the ground, eyes open, looking almost dead. Later, he told us that being pulled was "the worst thing I've ever felt in my life. ... To have my body fail me is utterly demoralizing."
Never mind
After stopping the reward challenge, Jeff Probst told the tribes that no one would win reward, but both tribes would still go to Tribal Council to vote someone out, as he'd previously announced.
But once the 13 assembled for the biggest-ever Tribal Council, Probst said that "due to the unprecedented nature of today's event ... there will be no tribal council vote tonight, nobody going home."
Moral victory
Desperate for a victory, Foa Foa and its five remaining members claimed one even though the challenge was stopped. Since they were in the lead, they decided they'd won. Mick said, "We have to take this as a win." Apparently, they've never seen a game where a team that's ahead falls behind and loses.
Hard at work
Russell's dramatic downfall was foreshadowed by his tribemates as he tried to build a fire while the rest of them huddled in the cold rain. Kelly said "he's just pushing himself too hard," and Brett said it's "awesome to see him pushing himself" but what he was doing is "a bit unnecessary and went a little bit too far."
Russell told us he had to "make some deposits in case you need to make some withdraws later on." Alas, his bank failed, and there were no bailouts here.
Treehouses of misery
Everyone suffered through more rain, and Erik told Probst, "I feel like I'm in solitary confinement for a crime I didn't commit," saying the rain brought "constant fear, constant torture that it's not going to stop." The solution to the torture: Hiding in a tree, which is what both Erik and Mick did at their respective camps.
No surprise there
While Russell's exit was dramatic and emotional, previews for the episode gave the episode's events away, showing him passing out at the challenge and being swarmed by medical personnel. Probst told People all about the incident, and Entertainment Weekly even wrote about it after seeing the episode in advance.
Surprises are overrated, anyway.
Andy Dehnart is a writer, TV critic, and editor of reality blurred. Follow him on Facebook or Twitter.
Copyright MSNBC - MSNBC