As Ebola spread across Sierra Leone in 2014, Amadu started sending paychecks home from New York to support seven nieces and nephews — orphans who had lost their parents to Ebola, some suffering from the disease themselves.
But one day in January, on the job as a package courier, he suffered a bike accident that shattered his leg in three places, he said.
When a program called temporary protected status, or TPS, expired in May for immigrants from three countries in West Africa, he lost his job and authorization to work or stay in the country legally.
Without a steady source of income, Amadu says he has no money to pay for rent, send to family back home, or afford $36,000 in medical bills. He does physical therapy himself and eats when his friends offer him food. He has no plans to return home.
"The health system there is very, very bad…If I go back home, I'm not sure if I'd be able to get medical attention," he said, declining to provide his last name out of fear of being deported. "Staying here, I don't open the mail some days because I can't pay. Every day I get scared. I cry. I don't know what will happen to me."
In 2014, the Department of Homeland Security gave protection under TPS — a temporary relief program for immigrants whose homelands are in crisis — to people from three West African countries hit hard by the Ebola epidemic: Guinea, Liberia, and Sierra Leone.
After the epidemic was declared to be over, Obama administration officials announced in the fall they would be ending the program and warned several thousand immigrants their legal status would expire in May.
Now, Amadu and other former TPS recipients say they face a difficult choice: Abandon the lives they've built up in the U.S. for a country still reeling from health-related problems, or remain here without the ability to work legally, under an administration that is cracking down on those without legal status and aiming for new limits on legal immigration.
"When that status is taken away from you, it's like your whole life is being forced in a different direction," said Wilmot Kunney, president of the D.C.-based United Liberian Association of the Americas. "They've become anchored in the U.S. system and now they can't work. They can't do anything."
Sharon Scheidhauer, a spokesperson for the U.S. Immigration and Customs Services, said in a statement to NBC that "TPS as enacted in law is inherently temporary in nature."
The program lasts for six to 18 months, depending on the initial announcement, but it can be extended by DHS as many times as officials see fit. Haiti, Honduras, and El Salvador have all had TPS for over half a decade.
It "is intended to provide immigration relief in situations that render it unsafe for foreign nationals in the United States to return to their home country or when their home country is temporarily unable to adequately handle their return," Scheidhauer said.
In the case of the Ebola-stricken West African nations, former DHS Secretary Jeh Johnson set up TPS for 18 months, renewed it for another year and a half, then announced the termination of the program last September.
NO TPS, NO WORK, NO MONEY
Experts and community leaders say that many of the West African immigrants who were protected under TPS — about 4,270, according to a DHS estimate in September — have left or will be returning home in compliance with the decision.
But others have established roots in the U.S. Evelyn, who overstayed a tourist visa after coming from Liberia in 2007, lives in Philadelphia with her 9-year-old son, 4-year-old daughter, and fiancé, all of whom are all U.S. citizens.
"What will happen to them if they take me away, and say, 'You have to go back home?'" she said, also declining to give her last name out of fear of deportation. "I'm afraid because I don't really trust nobody."
Although TPS is not supposed to lead to a green card in the first place, people like Evelyn — who were covered under the program and meet the normal qualifications, like marrying a U.S. citizen — can apply to stay and work here permanently.
But even then it isn't a sure bet. Lawyers told her that she may have to wait up to three years, pay as much as $6,000 in legal fees, and temporarily return to Liberia to get permanent status, she said.
Since losing her job at a shipping company, Evelyn said she has less and less money to pay rent and support her kids, much less apply for a green card.
"I don't know what's going to happen. I can't leave, but I have no way to stay," she said. "I have my kids at home who need my help, but without papers I can't even help myself."
While Evelyn's story is unusual in that she can apply for a green card, the number of years she's spent in the U.S. is not uncommon among former TPS recipients.
Anyone from a country with TPS can apply for temporary legal status as long as they entered the U.S. by the time the program was put in place. As a result, many former TPS holders from West Africa once lived here as undocumented immigrants.
For them, the program's termination means going back to a life as undocumented — a life that brings new challenges.
"Individuals who were living under the rug in the shadows came up, and now that's been taken away from them," said Jessica Greenberg, a staff attorney at the Immigration Community Law Center in New York.
Greenberg added that one of the most tangible effects of TPS termination is that it takes away a work permit and social security number from former recipients, preventing them from continuing to work and pay taxes.
That's the case with Aissatou, a Guinean immigrant who said she overstayed a tourist visa in 2001 and began working illegally for $8 an hour at a clothing company in New York, with the goal of eventually going to school.
TPS allowed her to secure a minimum-wage home health aide job in 2014, but she lost the position along with her work permit in May — and has been unable to find under-the-table jobs since.
"I look for a job to just pay me cash and I can't find anything. It's very hard, it's really very, very hard," she said. "If I go back, I'm going to die. I'm scared, I'm not sleeping, I don't know what to do. How am I going to survive? How am I going to pay my bills?"
Doris Meissner, a senior fellow at the Migration Policy Institute in D.C., said that DHS is required to announce that it is terminating TPS between two and six months before the expiration date so that people who are affected can plan accordingly.
"These are all people that would have been going home anyway if they had been complying with their visas," said Meissner, who led the nation's top immigration agency under former President Bill Clinton. "It's just that they're going home at a later date than they would have anticipated."
But for Aissatou, the cost of a plane ticket back to Guinea itself is already too high. With $500 in savings and a monthly rent almost double that, she cannot afford to go back to Guinea even if she wanted to return.
"I don't have anything. I have no money to pay rent. Everything has been taken from my pocket," she said. "When I pay for August rent, it will be gone, it will be zero. In September, October, November, I don't know what I will do."
THE RISKS OF RETURNING
Still, immigrants who do go back are likely to face difficult health and economic conditions in countries that are still reeling from the effects of the Ebola epidemic.
Amadu, the former package carrier, said that he needs to stay in New York not only to seek care for his broken leg, but also to protect the health of his orphaned young relatives in Sierra Leone.
After contracting Ebola themselves, five of his nieces and nephews suffer from after-effects like irregular menstruation and severe eyesight problems. When he was working, Amadu would send them about $300 a month, as patients in Sierra Leone must pay for many health costs out of pocket.
"I just want to support these kids because everyone knows everyone back there and they depend on me here," he said.
Dr. Mit Philips, a health policy analyst at Doctors Without Borders, said that although known transmissions of Ebola are over, the epidemic ravaged health care systems that were already struggling to serve the local population.
"These systems were not very good before Ebola, and during Ebola many of them only got worse," she said, adding that the average person in Sierra Leone receives medical care only once every three years. "Health services are now less effective and less easy to access."
Guinea, for instance, suffered from a measles outbreak this year after fear spread that getting vaccinated would lead to contracting Ebola.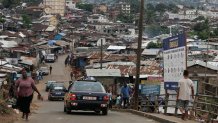 As for Amadu's broken leg, things aren't looking much better, Philips said, as unusual health services like kinesiology are rarely given under the public health system. In addition, people returning to West Africa may have lost their immunity to malaria, which is common in the region.
The crippling effects of Ebola — and the resulting deaths of 11,300 people — have thus weakened a local economy where most people live on only $2 a day.
Ousmane, who declined to give his last name out of deportation concerns, said that conditions are so bad in his home country of Sierra Leone that he would not be able to find a job, much less one that would allow him to continue supporting 10 family members.
"With Ebola, people were left with nothing. They couldn't farm. They couldn't make money or trade," he said. "And they still have nothing."
Like Ousmane, many former TPS holders have become a primary source of income for their family back home, even after they've lost their ability to work legally in the U.S.
Before the TPS termination cost him his job as a security guard in New York, Ousmane would send as much as $200 a month home so that his children, siblings and parents could afford things like groceries, clothing and school tuition. Now, he works various under-the-table jobs in order to scrape up funds.
The Liberian government operates a program to reintegrate refugees displaced by Ebola to other parts of West Africa, but former TPS holders do not fall under this classification, so it's unclear if they can apply. Guinea has no such program.
"They [former TPS holders] absolutely have no hope," said Ben Bangoura, a spokesperson for Guinea's embassy in the U.S. "They have been disconnected from the homeland for a very long time, and there are no jobs for them there."
BECOMING UNDOCUMENTED UNDER TRUMP
When former TPS holders do choose to stay in the United States, they must face the risks of living in the shadows under an administration that has gone after undocumented immigrants.
Since losing her job, Evelyn has stopped watching the news, she said. "The minute I see Trump or I listen to all the things he said on TV, I get more worried."
She's also stopped going outside as often as possible, in order to avoid the risk of being caught without legal status.
"You just don't know who you're going to come across, who's going to come by and say, 'Oh, Can I see your documents? Can I see this?' and then you don't have nothing to show," she said.
In May, The Associated Press reported that top DHS immigration officials requested evidence of criminal activity from Haitian immigrants who were allowed to stay in the U.S. under TPS.
A spokesperson for Immigration and Customs Enforcement said in a statement to NBC that it does not track whether people detained by the agency have TPS status.
Amadu said that a friend of his, a former TPS holder from Sierra Leone, was arrested in a Maryland suburb when ICE agents came to his door.
"You get scared every day that the same thing will happen to you, and they'll knock on your door and send you back home," he said.
Because he has no money for transportation, Amadu said he rarely leaves his house anymore in fear that the police will catch him jumping the subway turnstiles, an act that can get you arrested in New York.
"You're just scared to go to the subway and ask someone for a [MetroCard] swipe. If they call the cops and they arrest you, you're done," he said. "If I see a cop or I see an ICE guy, I get nervous. It's very stressful."
As a response to these conditions, four members of Congress including Rep. Keith Ellison, D-Minn., have proposed a bill that would reinstate TPS status for any West African immigrant who lost it in May.
But Meissner said that given the current political climate around immigration, it's unlikely that Ellison's bill will make it through Congress, much less be signed into law by President Trump.
Of the few immigration laws enacted this year, "there's been nothing passed that gives anyone permission to stay in the country longer," she said.
And as other immigration programs expire, community leaders worry that the issue could only get worse.
Meissner said that these consequences are a "carbon copy" of what might happen if the Trump administration fails to renew another program, Deferred Enforced Departure, that also gives Liberian immigrants the ability to stay and work here legally.
Known as DED for short, the policy is set to expire in March and covers somewhere between 4,000 and 10,000 people — none of them permanent residents — who fled civil war in Liberia as early as 1991.
"The big difference is that the DED people have stayed here longer, for decades," said Kunney, of the national Liberian-American association. "It would devastate a lot of people. It would cause the separation of families, the breakup of children with their parents."
The biggest test for the TPS program overall, Meissner said, could come early next year, when TPS is scheduled to expire for over 200,000 immigrants from El Salvador and Honduras.
According to federal regulations, DHS must announce a decision on whether or not to renew this policy sometime between now and November.
"These are quite different circumstances than those under which TPS [for Ebola-stricken countries] we're talking about was established," she said. "It's expected that there will be a lot of advocacy and debate around that decision because of the violence in El Salvador and the interests that the U.S. has there."
The Trump administration has been unpredictable so far in its approach to TPS. Before becoming President Trump's new chief of staff, John Kelly extended legal status for 60,000 Haitians until January. But as homeland security secretary, he also told the Miami Herald after the announcement that immigrants protected by the program "need to start thinking about returning."
As these TPS holders await news from the government, West African immigrants like Aissatou are contending with the realities of living as undocumented.
"I'm really scared. I'm not sleeping. I don't know what to do," she said. "I have no one. I have nothing. I have just God and myself."