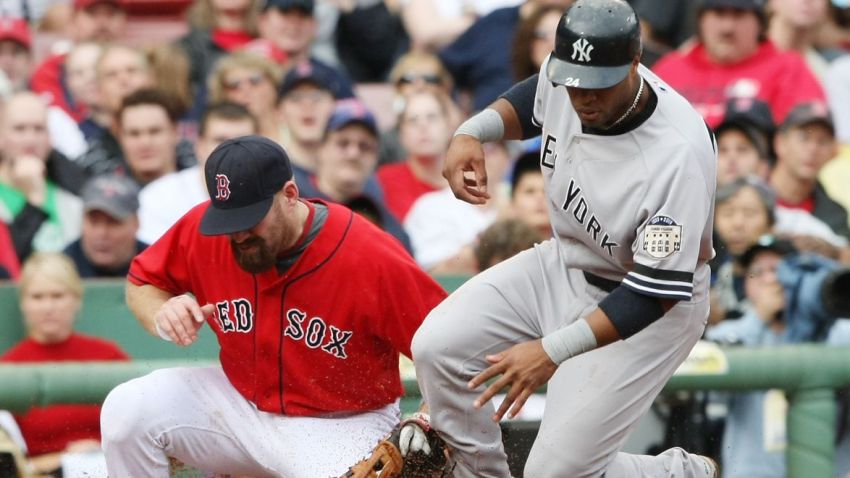 Five years ago, when the Red Sox couldn't pull off a trade for Alex Rodriguez, their owner, John Henry, made a call for a salary cap. On Wednesday, after a winter that saw the Red Sox fail to sign Mark Teixeira, he repeated that call.

"I think we all agree that competitive balance is an issue and if there was a way to put together an enlightened form of a salary cap, I think everybody among the ownership parties would support it," Henry said. "I think it's quite possible to put together a partnership between the players and owners going forward. I think it's something that should be at least explored."

Henry's not concerned with competitive balance. The Red Sox have won two World Series since 2004, which means they're competing just fine. His reasons are personally motivated, not driven by some magnanimous wish to help out the Royals and Twins.

First, Henry and the other Sox executives want to rankle the Yankees. Why else would Red Sox president Larry Lucchino say that "the Yankees have spent like the U.S. Congress." It's a weak analogy, given the state of the Yankees brand and Congress' brand, but the Red Sox keep selling the rich man, poor man angle because it resonates with their fan base. That leads us to the second reason why Henry wants a salary cap.

He knows that the Red Sox fanbase will fill Fenway Park whether they are the best team in baseball or not. He and the rest of the team brass have done a fine job of marketing to the tribal mentality of Red Sox fans, which means that that they could pay less in salary and still turn a tidy profit. That's good business, especially when you're saddled with a bad ballpark.

Don't get me wrong, Fenway Park is a great part of baseball, but the Red Sox could easily be moving into a new stadium and exploding their revenue stream like the Yankees. It would be a dicey move, though, because they've been so adamant about portraying themselves as the anti-Yankees. They've made a choice about what kind of business they want to be, but it is only that choice that's hampering them and not the lack of a salary cap. A cap will make it easier to keep using an outdated stadium as a home base while your chief rival is living in luxurious new digs.

That covers the Red Sox real reasons for wanting a salary cap, but this wouldn't be complete without a brief note about the fallacy of competitive balance being caused by salary caps. The last nine World Series have featured 14 different teams, which is the same as the last nine Super Bowls. The last nine NBA Finals have featured just 10 teams, and each of those sports have a shorter history dominated by a much smaller circle of teams than baseball.

Instead of always being held up as the worst thing in baseball, the Yankees should be held up as the model for the other 29 teams. Forget the numbers and just focus on the huge percentage of their revenues that they are willing to reinvest in the team. When someone like John Henry calls for a salary cap, he's really calling for a justification of pulling more profit out of his business. That's fine, but it shouldn't be conveyed as being in the best interests of baseball.

Josh Alper is a writer living in New York City and is a contributor to FanHouse.com and ProFootballTalk.com in addition to his duties for NBCNewYork.com.
Copyright FREEL - NBC Local Media