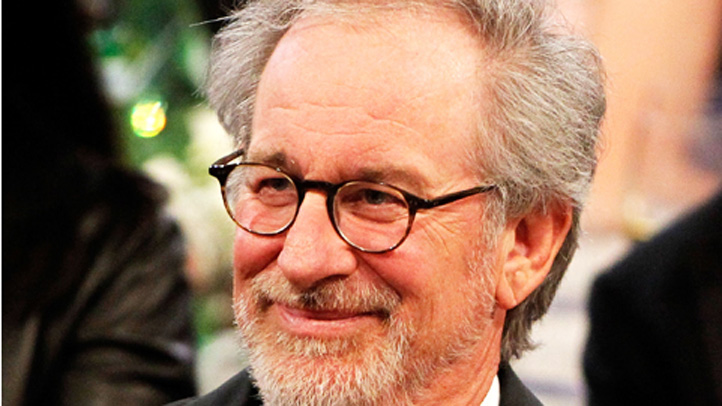 The List still means life.

In 1993, director Steven Spielberg had a vision: to tell the story of the Holocaust through the true tale of how German industrialist Oskar Schindler helped hundreds of interred Jews quietly escape Nazi concentration camps through his arms factories during Word War II. The filmmaker realized that vision with his acclaimed film "Schindler's List," his most moving and mature work of the period.

At the same time, a second dream arose: to document the stories of the real-life survivors to ensure that future generations never forget the Holocaust. That dream became the Shoah Foundation at the University of Southern California and it's Visual History Archive, containing more than 52,000 testimonies from 56 countries, in 32 languages .

20 years later, as "Schindler's List" marks the anniversary with a debut Blu Ray edition, the Shoah Foundation has launched it's IWitness Video Challenge, which brings the words of the survivors directly into the classrooms of contemporary middle school and high school students around the world via the Internet.

"Over the last two decades I'd always hoped that the film and the Shoah Foundation would know no bounds of age or generation or no bounds of geography," Spielberg said at the launch of the IWitness program at the Chandler School in Pasadena, CA. "The idea behind the challenge is the same idea as what was behind 'Schindler's List': that profound change can occur when even one person makes a positive choice. Students will listen to testimonies from iWitness. They'll develop insight to use those testimonies, to draw conclusions about how they can better their communities. And then build a video essay telling the story of how they made their communities and how they participated in making the world a better place. And the student who submits the most impactful video will be invited to Los Angeles next year to present their video as part of the USC Shoah Foundation institute's 20th anniversary in 2014."

While meeting with several schoolchildren who had created multimedia presentations inspired directly by their study of the survivors' testimony, the acclaimed filmmaker looked back on the intervening decades since he made the film.

On his belief that 'Schindler's List' is the movie in his filmography with the most profound impact:

By every measure. From someone who lacked perspective, I still feel that 'Schindler's List' is the film that has made the most amount of material change in the world. When I went to Poland at the end of February 20 years ago to start work on 'Schindler's List,' I quickly realized after a couple days of filming that this just wasn't a natural reflex of my filmmaking instincts. This was going to be something that was going to change my life. I didn't presume that it was going to have any effect on the world entirely, but I knew that this was something that was going to transform me forever.

On his artistic transformation:

It took ten years to not only develop the screenplay with Steve Zaillian, but it took me ten years to work up the courage to make the film. I know I couldn't have made the quantum leap from 'ET' to 'Schindler's List.' That would have been impossible to make that the film I did right after 'ET.' I wasn't ready. I didn't have the tools. I didn't have the maturity to tell the story then. And I had to sort of work my way up to it, always being afraid of it, of the great responsibility to tell any story of the Holocaust, of the Shoah. So it took me about ten years to sort of increase my skills, increase my own maturity and to be able to make films like 'Color Purple' and then 'Empire of the Sun,' which were adult pictures.

On his personal transformation:

I went to Poland and I realized that I took quite instantly to shooting all the actual locations where it happened, but as a Jew I wouldn't have survived five minutes there in 1944, 1943, 1945. So it was a profound experience. I had this idea, when I'm shooting a scene that tells a survivor's story, let me see if the survivor would agree to come back to Poland to be witness to the scene we were shooting about their lives, and most everybody turned down the offer. They had not been back to Poland since the Holocaust, and I can certainly understand that. But four or five very courageous women – not men, but women – took us up on our invitation, came to Krakow while we were shooting to witness the scenes about their lives that we were exploring, that we were retelling.
And it was this one women who said to me, 'Please listen to my story.' And I said, 'I'm telling your story.' She said, 'You're telling this much of my story. You have to listen to this much of my story. Will you have the time to sit with me and tell you everything?' And that moment with her was the catalyst for the Shoah Foundation. That's where I realized that she is so willing to unburden herself, or at least enlighten me, and share the crimes of humanity that were perpetrated on her and her family with me. Will there be others that would talk as openly as she's willing to speak? And that's where the whole idea came from.

On his estimation of the film 20 years later:

I think that the film was a stepping stone. None of us make movies thinking that they are going to do anything other than come out on all the ancillary markets, and come out on DVD, and come out on television, and that's going to be it. The shelf life of 'Schindler's List' has renewed my faith that films can do good work in the world, but it's up to the people to allow those images to be impressionable, to last, and for people to do something about it. So we can't bring the people in by any other means than through showing them something that moves them, that makes them want to learn more. And in the case of the Shoah Foundation, the survivor community, through all of these 52 thousand iWitness testimonies has actually given a personal face to the Holocaust.
So the Holocaust isn't just what we often learn in school, which are names and dates and places and times and events, but you actually are able to communicate with the soul of the person who survived, losing everything and everyone, but who survived to become themselves teachers. And that is really up to students and teachers and people who go to see movies, to decide whether they're going to let that, whatever value the film has, whether to let that really reverberate through their lives, where they can then turn around and do something good for the greater good, for the greater community.