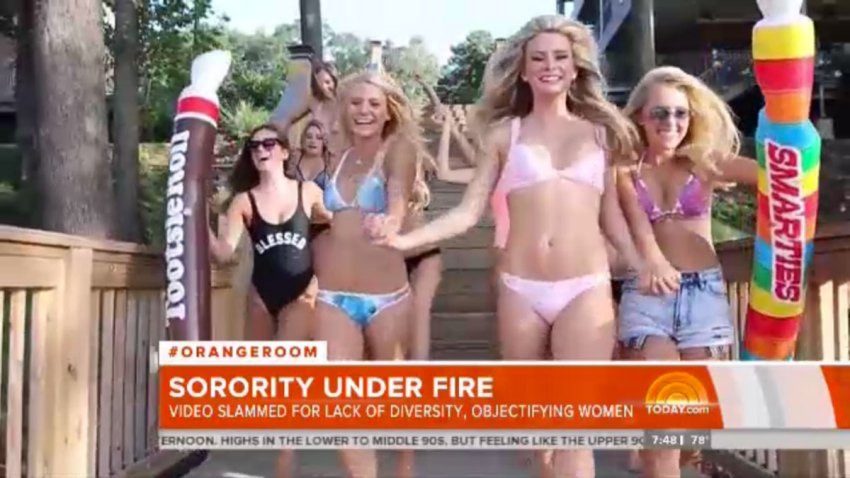 The women of University of Alabama's Alpha Phi sorority are in hot water after sharing a salacious recruitment video on YouTube.
The video was meant to attract new pledges and featured mainly white women partying in the sorority's house. The sorority, which has 72 members, has received backlash for lacking racial diversity in addition to promoting sexuality. A writer for Al.com published an op-ed and called the video "worse for women than Donald Trump."
"These young women, with all their flouncing and hair-flipping, are making it so terribly difficult for anyone to take them seriously, now or in the future," writes A.L. Bailey. "The video lacks any mention of core ideals or service and philanthropy efforts. It lacks substance but boasts bodies. It's the kind of thing that subconsciously educates young men on how to perceive, and subsequently treat, women in their lives. It's the kind of thing I never want my young daughters to see or emulate."
NEWS: A University of Southern California sorority demands Spanx, no glasses
Alpha Phi deleted the video, which had 500,000 views on YouTube before it was taken down, Today reported.
Many commented on Bailey's piece, calling out the girls for looking like "ex porn starlets," while others pointed out how the video only adds to the argument that the sororities and fraternities lack diversity. "Bad look for the University of Alabama in light of the issue of diversity of the Greek system," a user commented. "Not enough thought was put into production of this video. The sorority did not think that they are not only representing themselves, but the University as a whole!"
Others, however, defended the women.
"While diversity might be an issue since diverse women don't go through recruitment, you can't blame that on these women," another commented. "They filmed the women of their sorority. Plus, please stop taking the weight of the world off their shoulders. They were showing themselves having fun. If someone takes piggyback rides as something sexual, well that's on them."
NEWS: Was Miss America kicked out of her sorority for hazing?
While no disciplinary actions have been taken against the sorority, Associate Vice President Deborah M. Lane tells E! News in a statement that students should be more careful with their use of social media.
"This video is not reflective of UA's expectations for student organizations to be responsible digital citizens," she says. "It is important for student organizations to remember that what is posted on social media makes a difference, today and tomorrow, on how they are viewed and perceived."
The controversy hasn't affected the college's recruitment, as the University of Alabama added a record 2,261 women to the sorority system on Saturday, which might be the largest pledge class in the nation, according to Today. A spokesperson for the university told AL.com that 214 of the women are minorities.
Copyright E! Online