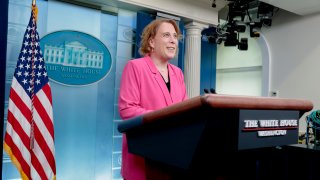 President Joe Biden marked Transgender Day of Visibility on Thursday by denouncing "hateful bills" being passed at the state level as the White House played host to "Jeopardy!" champion Amy Schneider, the first openly transgender winner on the popular quiz show.
Schneider met with second gentleman Doug Emhoff, who joined Rachel Levine, the assistant health secretary and the first openly transgender federal official to be confirmed by the Senate, for a conversation with transgender kids and their parents.
Schneider used the moment in the Washington spotlight to speak out against bills affecting transgender people.
"They're really scary and some of them in particular that are denying medical services to trans youth, those are, those are lifesaving medical treatments," Schneider told reporters. "These bills will cause the deaths of children and that's really sad to me and it's really frightening."
"Jeopardy!" star Schneider spoke of "being a trans person out there that isn't monstrous and isn't threatening and is just a normal person, like we all are," and said "the more that people like me can be seen, the harder it is to sustain the myths that are ... kind of driving a lot of this hate and fear."