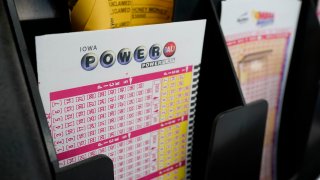 The winning numbers for the $441 million Powerball lottery jackpot were revealed in Wednesday's drawing, but it was no one's big lucky day.
No ticket matched all six numbers on Dec. 29, which were 2-6-9-33-39 with a Powerball number of 11. As a result, the prize money is going up to $483 million for Saturday night's drawing.
The $483 million prize is for a winner who chooses the annuity option, paid over 29 years. Nearly all big winners take the cash option, which for Wednesday night's drawing is an estimated $347.7 million. Either prize option would also be subject to taxes.
The jackpot was last won on Oct. 4 when a single ticket in California won a massive $699.8 million grand prize. Since then, there have been 37 drawings in a row without a jackpot winner. The longer the game goes without a grand prize winner, the larger the payout will grow.
Since Aug. 23, Powerball drawings have been held three times a week to increase interest and grow prizes more quickly. Drawings are held each Monday, Wednesday and Saturday at 10:59 p.m. ET.
One thing that hasn't changed, though, is the long odds of winning the jackpot — one in 292.2 million.
Powerball is played in 45 states plus Washington, D.C., Puerto Rico and the U.S. Virgin Islands.