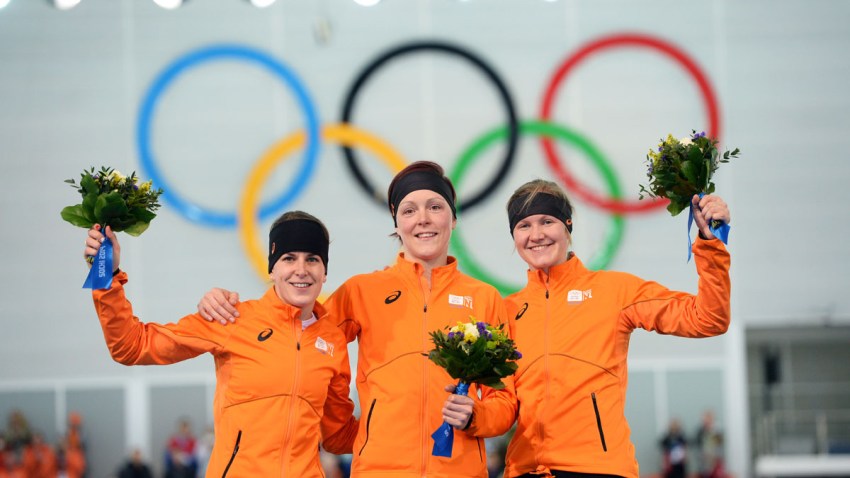 Jorien ter Mors led another Dutch sweep in Olympic speedskating, beating favorite Ireen Wust in the women's 1,500 meters Sunday and setting up a shot at becoming the first skater to win medals in both long and short track.
Competing in an early pairing, Ter Mors turned in a stunning time of 1 minute, 53.51 seconds, an Olympic record and the second-fastest ever at sea level. The only skater to go quicker was Wust at the Dutch Olympic trials in December.
Wust settled for silver this time in 1:54.09, with the bronze going to Lotte van Beek in 1:54.54.
Ter Mors just missed a short track medal Saturday, finishing fourth in the 1,500 at the Iceberg Skating Palace next door. She has another chance in the 1,000, which begins Tuesday.
The Dutch have now won a staggering 16 speedskating medals at Adler Arena, breaking the previous record haul of 13 set by East Germany at the 1988 Calgary Olympics. And with favorites in three of the last four events, they figure to push the mark to heights that may never be seen again.
It was the fifth win in eight events and the third sweep of the medal podium for the Dutch, who have won at least one medal in every race. And if a fourth medal had been available in the 1,500, they would've won that, too.
Marrit Leenstra finished fourth, knocked out of the bronze in the final pairing by Van Beek.
Essentially, the Dutch are just racing themselves in Sochi.
At the other end of the scale are the Americans, who had another dismal day at the big oval. Heather Richardson of High Point, N.C., was seventh, Brittany Bowe of Ocala, Fla., struggled to a 14th-place finish, and Jilleanne Rookard of Woodhaven, Mich., was 18th.
Despite switching suits in a desperate bid to change their fortunes, the Americans are facing the very real possibility of their first medal shutout in speedskating since the 1984 Sarajevo Olympics.
Copyright AP - Associated Press