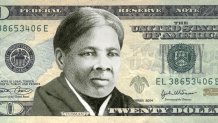 A group advocating for a woman's face on the $20 bill announced its pick on Tuesday: abolitionist Harriet Tubman, who guided slaves to freedom along the Underground Railroad.
The group, Women On 20s, is presenting a petition to President Barack Obama to replace President Andrew Jackson with Tubman as the first woman on American currency.
It held two rounds of online voting to let the public choose from among 15 American women of historical significance. More than 600,000 votes were cast, the group said on its website.
[NATL] Top News Photos: Pope Visits Japan, and More
Tubman got 118,328 votes to 111,227 for Eleanor Roosevelt, 64,173 for Rosa Parks and 58,703 for Wilma Mankiller, the first female chief of the Cherokee Nation, the group said.
The Treasury Department said it had no comment on the group's effort.
Tubman was born to parents who were slaves in Dorchester County, Maryland, sometime between 1820 and 1825. She fled to Philadelphia via the series of safe houses known as the Underground Railroad.
Tubman returned to the South about 19 times to rescue her family and others, including on her last trip her aging parents, as a "conductor" on the railroad, the group said.
During the Civil War, she became a spy and scout for the Union Army.
An order from the secretary of the treasury is required to change a portrait on a bill.
Jackson replaced President Grover Cleveland on the $20 bill in 1928.
Women On 20s says Jackson should be booted because he helped to convince Congress to pass the Indian Removal Act of 1830, which drove Native American tribes in the Southeast off their lands and into Oklahoma. Thousands died along what has been named the Trail of Tears.
Last month, U.S. Sen. Jeanne Shaheen introduced legislation that would complement the Women On 20s campaign. It would direct the treasury secretary to create a panel to recommend a candidate for a new $20.
Shaheen, a Democrat from New Hampshire, said a woman's portrait was long overdue.
"The incredible grassroots support for this idea shows that there's strong support for a woman to be the new face of the $20 bill," she said in a statement.
Also last month, Rep. Luis Gutierrez, a Democrat from Illinois, introduced a similar bill in the House.