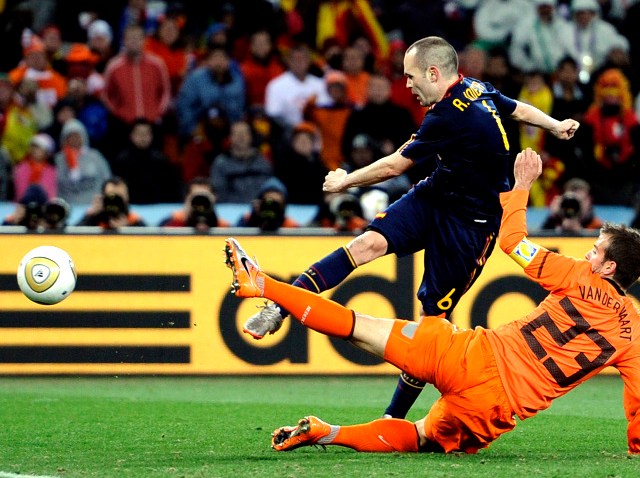 Spain's Andres Iniesta rocketed the ball to the back of the net in the 117th minute of the match to make the score 1 - 0. The extra time score secured Spain's first ever World Cup title.
The hallmark of this 2010 final was brawn over beauty. A total of 9 yellow cards were pulled, 6 for the Netherlands and 3 for Spain. The Netherlands' John Heitinga drew a red card and was ejected.
Despite a gritty performance that ESPN announcers compared to a "cage match," the Netherlands lost for the third time in the World Cup final.
Spain's goal tender Iker Casillas was brilliant when tested. The Netherlands' Arjen Robben fought off a flagrant hold and came charging down the field on a breakaway. With Robben bearing down at a full sprint, Casillas attacked the shot and covered up the ball.
In the second half Spain's clean passing allowed them to control possession. They had their chances in front of the net, but missed a few good opportunities. Sergio Ramos sailed a free header high over the goal in the 77th minute.
The Netherlands' Arjen Robben flubbed a fantastic scoring chance in the 61st minute. Breaking away with defenders in tow, he met goal tender Iker Casillas at the top of the penalty box. Casillas guessed wrong and dove left, and Robben put the ball to the other side. But Casillas managed to kick his foot out just enough to send the soft shot wide of the net.
The Spanish controlled much of the play at Soccer City in the first half as well, and had the two best chances early in the match.
Defender Sergio Ramos sent a header from Xavi Hernandez's cross on target, but goalkeeper Maarten Stekelenburg made the save in the fifth minute. Spain striker David Villa's left-foot volley from Xabi Alonso's cross then hit the side-netting in the 12th.
In the 28th, Netherlands midfielder Nigel de Jong was lucky to escape without only a yellow card after kicking Alonso in the chest while going for a ball.