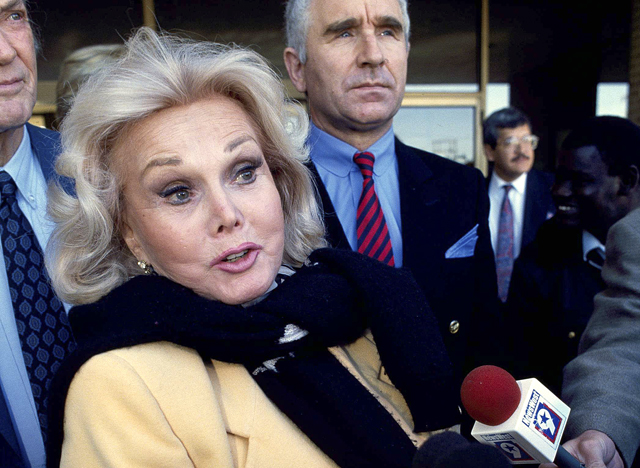 Zsa Zsa Gabor underwent successful hip replacement surgery Monday for injuries she suffered when she fell out of bed Saturday night at her Bel Air home.
"Everybody's relieved," publicist John Blanchette told ABC7. "It looks like it was a successful operation. She will be held at the hospital for four to five days minimum while she recuperates."
Blanchette said the 93-year-old actress was injured while trying to answer the phone.
"She was watching her favorite show, `Jeopardy,' when the phone rang," Blanchette told City News Service. "She reached over to pick it up and fell."
The actress was alert when she was taken to Ronald Reagan UCLA Medical Center, he said.
Blanchette said the actress broke her hip in the fall, necessitating hip- replacement surgery.
Gabor's ninth husband, Prince Frederic von Anhalt, and daughter Constance Francesca Hilton -- her daughter by Conrad Hilton -- were at her bedside all day, Blanchette said.
Hilton issued a statement last night saying her mother was alert and doing well.
"My mother is not in critical condition or at death's door," she said. "She was on the phone in the hospital Monday while having lunch. Surgery in the A.M., but she is strong. Hoping for the best."
The Hungarian-born actress, the middle of three sisters, is the only surviving sibling. Magda, who was the oldest, died in 1997 at age 82, and Eva, the youngest, died in 1995 at age 76.
Zsa Zsa appeared in dozens of films in the 1950s and 1960s, including the Orson Welles 1958 classic "A Touch of Evil."
In 1989, she was sentenced to 72 hours in jail for slapping a Beverly Hills police officer who pulled her over.
Gabor is partially paralyzed from a 2002 car accident.
"She's fragile, but she's still very bright -- she still makes me laugh," Blanchette told the Los Angeles Times. "Her faculties are intact, but her body's failing her."

Copyright CNS - City News Service