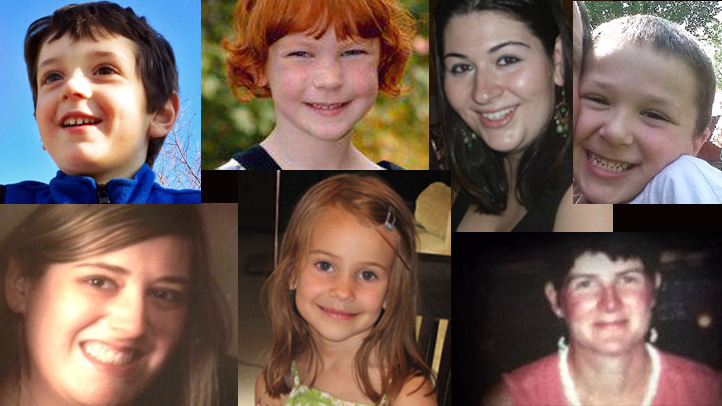 Families of students and teachers from Sandy Hook Elementary School will hold services on Thursday and remember the victims of the shooting last week.
On Thursday, five funerals and six wakes are planned, according to the Associated Press, and more tributes were scheduled for Friday and Saturday. Not all plans have been made public.

Jesse Lewis was only 6 years old when died bravely trying to lead other children to safety on Friday morning. His family will remember him as an amazing child who was full of light and love.

When he heard gunshots inside his elementary school, he ran into the hallway to help. His family said in his obituary that they are taking comfort in knowing what a brave child he was.

Friends may call at the Honan Funeral Home, 58 Main Street, Newtown on Thursday morning from 9 a.m. to noon. All other services and interment in Zoar Cemetery, Sandy Hook are private.

In lieu of flowers, please make donations to: Voice for Joanie Inc., 5 Glenwood Rd, New Milford, CT 06776 voiceforjoanie.org

Catherine Violet Hubbard's family will remember her passion for animals and her constant smile.

"We are greatly saddened by the loss of our beautiful daughter, Catherine Violet and our thoughts and prayers are with the other families who have been affected by this tragedy," Jennifer and Matthew Hubbard said in a statement. "We ask that you continue to pray for us and the other families who have experienced loss in this tragedy."

Catherine's funeral mass will be held Thursday at 10 a.m., at St. Rose of Lima Church at 46 Church Hill Road in Newtown. Burial will follow at St. Rose Cemetery on Cherry Street at the corner of Black Cherry Lane.

The family is requesting donations be made to the Newtown Animal Center because of their daughter's love for animals.

Newtown Animal Center, PO Box 475, Newtown, CT 06470.

Benjamin Wheeler's family will remember him as a bright and spirited boy and a devoted fan of his other brother, Nate.

Benjamin played soccer, was a strong swimmer and loved learning at school.

Just before school on Friday, Benjamin told his mother.
"I still want to be an architect, but I also want to be a paleontologist, because that's what Nate is going to be and I want to do everything Nate does."

He was also a member of the Tiger Scout Den 6, which met at the Sandy Hook Volunteer Firehouse.

A funeral for Benjamin will be held at 11 a.m. on Thursday at Trinity Episcopal Church, 36 Main St., Newtown. The burial will be private.
His family is suggesting contributions in his memory be made to the Benjamin Wheeler Fund c/o the Newtown Savings Bank, 39 Main St., Newtown, CT 06470 or online at www.facebook.com/BenjaminWheelerFund.

Allison Wyatt's parents said she loved to give love and had a special admiration for her teachers.

She would often surprise her family with random acts of kindness, once offering her snacks to a complete stranger.

She dreamed of becoming an artist and turned her family's Newtown home into an art studio by taping her pictures to the walls, her family said in a statement.

Her funeral will be held at 11 a.m.at Sacred Heart Church in Southbury.

Rachel Marie D'Avino, 29, was a behavioral therapist at Sandy Hook who worked with children within the autism spectrum. She died protecting the children she loved.

Rachel loved animals, cooking, baking, photography, and karate. She was an adoring big sister who cherished her two younger siblings like they were her own children.

In the week before she died, Rachel completed her final requirements to become a Board Certified Behavior Analyst.

Her boyfriend, Anthony Cerritelli, had asked her parents for permission to marry Rachel and planned to propose on Christmas Eve, according to one of Rachel's friends.

Calling hours will be held on Thursday, from 4 p.m. to 8 p.m. at the Woodbury Funeral Home of Munson-Lovetere Funeral Home at 2 School Street in Woodbury.

Her funeral will be held at 11 a.m. on Friday at the Church of the Nativity on East Street in Bethlehem. Burial will be held in the Mt. Olivet Cemetery, Watertown.

Lauren Rousseau, 30, of Danbury, was hired as a permanent substitute teacher at Sandy Hook Elementary only weeks before her death.

Her family said Lauren was known for her exuberance, her love of family and of children, her friendliness, kindness and loyalty, and her ever-present smile.

Family, friends and coworkers are invited to calling hours Thursday at 10 a.m. in First Congregational Church, 164 Deer Hill Ave., Danbury, followed by a memorial service at 11 a.m.
Anne Marie Murphy, 52, of Sandy Hook, was a teacher at Sandy Hook Elementary School assigned to work with the special needs students in Victoria Soto's class.

The mother of four died cradling student Dylan Hockley in her arms, according to a statement released by Hockley's family.

Her funeral will be held Thursday morning at St. Mary of the Assumption Church.

The funeral home said Murphy will be buried later Thursday at St. Joseph's Cemetery in Somers.

In lieu of flowers, memorials may be made to Autism Speaks, 1060 State Rd., 2nd Floor, Princeton, NJ 08540, www.autismspeaks.org, according to her obituary.












Copyright AP - Associated Press