Polls are now scheduled to be closed across Connecticut with the arrival of the 8 p.m. hour, however some voting sites will remain open, since they are required by law to allow everyone in line at the time of the poll closing to vote.
See the latest race-by-race elections results here
Around 8:20 p.m., NBC News projected that Joe Biden will win Connecticut.
All Connecticut's members of the U.S. House of Representatives are projected to win re-election, according to NBC News. Reps. Rosa DeLauro, John Larson, Joe Courtney, Jim Himes and Jahana Hayes are all expected to return to Washington.
Despite historic numbers of people casting absentee ballots because of the coronavirus pandemic, hundreds of thousands of Connecticut voters still headed to the polls today for races including the state's congressional districts and presidential election. Long lines formed around 4:30 a.m. or 5 a.m., well before the polls opened at 6 a.m. and lines continued through the day at several locations, with polls staying open until 8 p.m. or until everyone in line at that time has had a chance to cast their vote.
"The lines are building again," Secretary of the State Denise Merrill said on Tuesday evening.
Merrill said as of 6 p.m., voter turnout was just under 70%.
"It's the highest number I can ever remember," Merrill said. She said she thinks the last time the turnout was that high was in 1972.
Turnout is expected to get over 75% and perhaps be closer to 80%, Merrill said.
Long Lines to Vote at Some Locations
People who were at the front of the line at Hartford Grace Lutheran Church said they had been waiting for two and a half hours to vote.
The line was more than an hour long at the location throughout the day, according to voters. Some voters said they do not think there is enough staff. The moderator told NBC Connecticut that she is doing the best she can with the resources she has.
A moderator said they're doing the best they can with the resources they have, but address or paperwork issues slowed down the line.
"It's difficult and I did see long lines there," Merrill said.
"You know of course it looks longer because people are standing six feet apart but if you're waiting in line two hours that is a long line," she said.
Merrill reminded voters that if they are in line at 8 p.m., to stay there because they must be allowed to vote if they remain in line.
As of 6:30 p.m., the line at Grace Lutheran Church began to move faster after the moderator said she received additional help.
As of noon, voter turnout was slightly less than 50 percent, according to the office of the Secretary of the State.
Merrill said there are often lines on the morning of Election Day when there is a presidential election, but the line Tuesday appeared to be longer than it was in 2016.
"I'm thinking we're going to have a big turnout," Merrill said.
She added that there have been very few problems.
Some voters waited in line for 10 minutes. Others waited for two hours.
Voting Tabulator Issues
Several precincts reported temporary issues with voting tabulators, but moderators at those locations said everyone was still able to cast a ballot. In Waterbury at the city's Chase School, the voting tabulator was inoperable around 7:15 a.m. for about 15 minutes, according to the moderator. During that time, ballots were placed in an auxiliary box to be processed later.
In Wallingford, at the Rock Hill school, a tabulator has jammed several times throughout the day, according to election officials there. A maintenance person is now onsite as of 5:30 p.m. in case it needs to be fixed again. The jams caused brief pauses in counting the ballots.
According to the Secretary of the State's office, the tabulators are 20 years old and can't even connect to the Internet. Merrill told NBC Connecticut on Monday that her post-election plan is to upgrade the state's tabulators.
Most voters though did not run into any issues, including voters in Bristol who said they had an easy voting experience.
"The process was very good. It was very smooth and it was very fast," Glenn Martin, of Bristol, said.
PHOTOS: Scenes From Polling Places Around Connecticut On Election Day 2020
"I think everybody knows why this is such an important election and it's great to voice your opinion. And it felt really great," John Barresi, of Hartford, said.
"I feel I was doing something very positive in more ways than one," Albert Pierre, of Hartford, said.
As of Monday, 715,000 absentee ballots had been processed and Merrill said about 635,000 had come back. Voters who have not returned them can drop them into a ballot drop box until 8 p.m. Tuesday. All ballots must be back to the town clerk by 8 p.m. tonight.
Some Voters Received the Wrong Ballots in Killingly and New London
Some voters in Killingly and New London received the wrong ballots, according to each location's Voter Registrar's Office.
Officials said the error in Killingly happened around 8 a.m. and took place at the town's only split district, which includes voting district two and four. The error impacted the races for districts 44 and 51, they added. The registrar's office said the checker picked up the wrong pile of ballots and the error was discovered quickly. At this point, officials are unsure how many votes were impacted, but said the pile was still relatively full so they do not believe it was a lot.
In New London, there was a similar situation where ballots went out to the wrong district for absentee votes, according to the city's Voter Registrar's Office. Authorities said it impacted about 70 people where voters were not able to vote for one candidate in a state house race.
"I think these were absentee ballots that went out and there were two districts that got mixed up for a group of voters. But we can rectify it, so we are going to allow them to vote for all the offices, except for the one that's in question and that would be two different state rep districts," Secretary of the State Denise Merrill said.
The absentee ballots that come in on Election Day get counted at the end of the night so they can be checked against voter lists.
Even with so many absentee ballots, voters continue turning out at the polls.
People were in line in Hartford more than an hour before the polls opened.
"Didn't want to wait. Didn't want to have to be the ninth one in line or the 200th one in line. I was going to be here no matter what," Marlese Starling, of Hartford, said.
"I work two jobs so I have to leave one, go to the other one, so I make sure, you know, because every vote counts," Barbara Facey, of Hartford, said.
Voters got into line in Norwich too.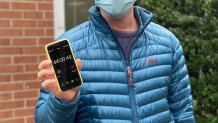 Aaron Lord, of Norwich, was in line for around 44 minutes and said he voted because, "It is your civic duty."
Editor's Note: Secretary of the State Denise Merrill initially said voter turnout as of noon on Tuesday was around 75 percent, but her office later said that voter turnout was slightly less than 50 percent as of noon, including absentee ballots.
Stories from LX News
LX, or Local X stands, for the exponential possibilities of storytelling in our communities.
NBC Connecticut and Associated Press