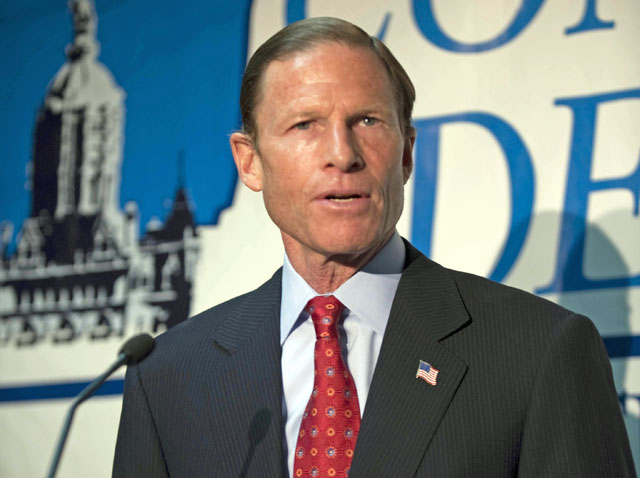 The state Republican party is trying to force Senate candidate Richard Blumenthal to drop out of the race after a New York Times report about a "misspeak" in which he said he served in Vietnam.
Blumenthal has long been the front runner in the Senate race and the party is responding to the newspaper report by sending out a petition saying there's no way the Democratic attorney general can fix this mistake.
Blumenthal, 64, received at least five military deferments that enabled him to stay out of the war between 1965 and 1970, during which time he went to Harvard, studied in England and landed a job in the Nixon White House. Once he secured a spot in the Marine Reserve, he had almost no chance of being sent to Vietnam, the Times reported.
One of Blumenthal's Republican opponents, former WWE wrestling executive Linda McMahon, claimed to have given video of the Norwalk event to the Times after more than two months of "deep, persistent" research.
The Times refused to comment on its sources.
While the Republican party is calling for an end to his race, the voting public is divided over whether this is a mistake or a show of disrespect to veterans.
"If you fought in a war, that's one thing. But if you didn't, don't imply that you did. I guess that's the way I'd look at it as a voter, but Vietnam was a long time ago, and I'm not going to choose my candidate based on something 40 years ago," Pat Reynolds, of Cheshire, said.
Melissa Weaver, the Connecticut captain for Veterans for Freedom, thinks Blumenthal should apologize.
"Regardless of why you said it, or political reasons, no matter why you said it, the Vietnam veterans deserve an apology," she said. "What they went through was hell and they should not be spoken about like that."
Blumenthal held a news conference on Tuesday and defended himself.
"On a few occasions, I have misspoken about my service and I regret that. And I take full responsibility," said Blumenthal, a trim, square-jawed figure with the bearing of a military man. "But I will not allow anyone to take a few misplaced words and impugn my record of service to our country."
Political experts are also divided on how this will affect Blumenthal's race for Senate.
"I thought he did himself a terrible disservice by not simply apologizing and admitting he had been embellishing his record," Kevin Rennie, a columnist for the Hartford Courant, said. "I think he's going to have a very difficult time getting elected in the U.S. Senate."
"People know him, they know he has a strong record of fighting for people in Connecticut for a long time," said Chris Kofinis, a Democratic consultant in Washington. "People, I think, are forgiving."
Senator Joe Lieberman and Democratic Congressman Chris Murphy say Blumenthal's record speak for itself.
"He has been a champion for veterans. He's turned the office of the A.G. into a place where vets can go get help," Murphy said.
One of Blumenthal's Republican opponents, former Rep. Rob Simmons, a Vietnam veteran, said he had not heard Blumenthal make any misstatements, but added: "He owes an apology to those whose service he has undeservedly capitalized on for his own political purposes."
The Democrat's nominating convention begins on Friday and the party chairwoman Nancy DiNardo said there's no pressure from fellow Democrats to replace him in the race.
Senator Chris Dodd opened up the Senate seat when he decided not to run for re-election and called Blumenthal "an honorable man who has served his state and country proudly" and "will be a great United States senator."

Copyright AP - Associated Press