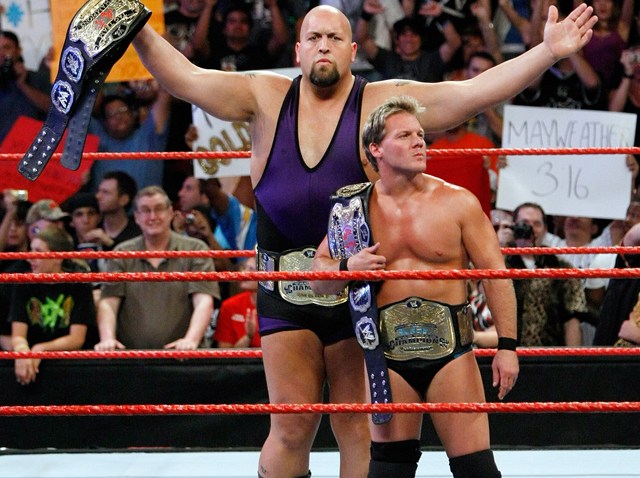 The latest blow in the ongoing battle over WWE gear has been thrown by the U.S. Department of Justice.
World Wrestling Entertainment said it received a letter from the DOJ Monday threatening the company's plan to distribute WWE merchandise at polling places in Connecticut on Election Day could be considered criminal activity.
"Not so coincidentally after President Obama's visit to Connecticut this past weekend and on the eve of the midterm elections, WWE is being threatened by the U.S. Department of Justice of the Obama Administration," the Stamford-based company said in a release.
"This is clearly heavy-handed bullying from big government and would appear to be desperate political activity in closely contested elections in Connecticut," WWE CEO Vince McMahon said.

"The federal government is completely mad. They're out of control. This is a complete intimidation by the very people who are supposed to protect our right to vote," said Connecticut GOP Chairman Chris Healy.
McMahon's wife, and former World Wrestling Entertainment CEO Linda McMahon, has been in a tight race for U.S. Senate against Democrat Richard Blumenthal.
The controversy began when Secretary of the State Susan Bysiewicz told local registrars that they could ask voters wearing WWE gear to change or remove the merchandise before entering a polling place. Election laws forbid people from wearing items promoting a candidate within 75 feet of a polling place.
Bysiewicz later clarified her statements, saying that WWE clothing was alright to wear, as long as it didn't contain an image of Linda McMahon.
The WWE jumped on the controversy, promising to offer free merchandise to voters at select polling places around the state.
The from the Department of Justice read in part "This letter is to advise you that WWE might be operating in ignorance of applicable federal criminal law. Specifically, Section 1973i(c) of Title 42 of the United States Code makes it a federal offense to pay or offer to pay an individual a thing of value for voting."
The threat apparently worked.
Monday evening WWE said it has reluctantly decided not to give away merchandise at polling stations Tuesday.
Speaking at a campaign event Monday night in Guilford, Linda McMahon said, "I think Vince McMahon did respond to that, that he was not going to distribute any of the WWE paraphernalia."