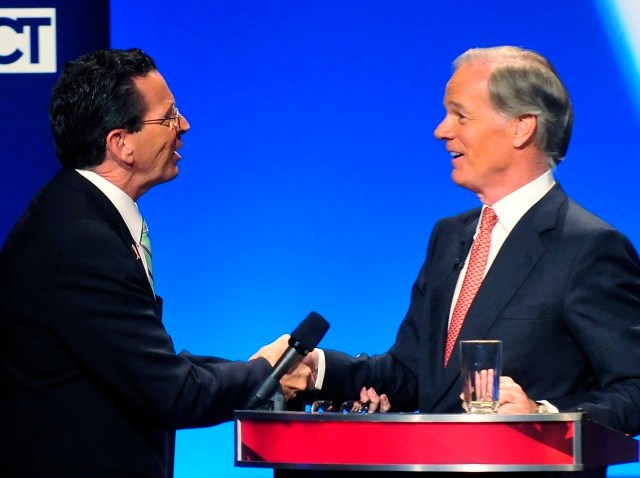 If the candidates for U.S. Senate traded "jabs" in their first televised debate, the candidates for governor dropped the gloves and engaged in a "rock 'em, sock 'em" battle at the Bushnell on Tuesday night.
At times, Democrat Dan Malloy and Republican Tom Foley talked over each other, yelled back and forth and called each other names.
"Dan Malloy seemed to be in a bit of a bad mood. He seemed a little angry, so I don't know if that's the polls or what bothering him," Foley said.
"I had the time of my life tonight. The problem with Mr. Foley is, he likes to say things and, in the corporate world, no one can fight back," Malloy said.
Several times during the debate, Malloy and Foley forgot all about the moderator and their audience and just went at it. Both candidates were asked about how they though the fighting translated to voters.
"People want a governor who leads and doesn't sit back and have someone repeatedly tell untruths," Malloy said.
"I served in Iraq for seven months, so I'm used to this sort of thing," Foley said.
Despite all the arguing, the two did manage to address a few issues.
The debate happened hours after Steven Hayes was found guilty of crimes punishable by the death penalty and Malloy was forced to defend his anti-death penalty stance.
"I want to be clear. Under the legislation proposed in the past, if a gentleman is sentenced to death, those sentences will be carried out -- period," Malloy said.
And when it got down to it, the two did agree on a few issues, including job creation and budget cuts, but they had very different ideas on how to accomplish both.
Foley argued that Malloy has made too many promises to the unions and special interest groups to effectively cut the deficit.
Malloy said Foley is ignorant of government. The Democrat harped on Foley's time at the Bibb Company in Georgia and the shambles he said Foley created there.
"He's been untruthful. If you want to call that a lie, then yes that qualifies as lies," Foley said.
With just four weeks until Election Day, neither candidate plans to change their strategy.
On Wednesday, Foley, Malloy and independent candidate Tom Marsh will give separate opening remarks during the annual convention of the Connecticut Conference of Municipalities in Hartford.
They will respond to questions from the audience. Representatives from more than 120 Connecticut cities and towns are expected to attend.
Also Wednesday, Foley and other state Republicans plan to rally at the Capitol to gather party support before Election Day.
The candidates are seeking to succeed Republican Gov. M. Jodi Rell, who's not seeking re-election.
Follow us on Twitter @NBCConnecticut, on Facebook, and sign up for breaking news SMS alerts on your phone by texting "CTBREAKING" to 622669.
Copyright AP - Associated Press