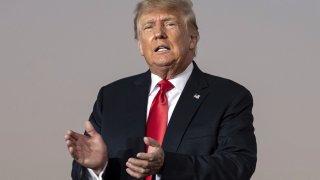 Donald Trump has been told he can testify before a grand jury in Manhattan as part of an investigation into hush money paid to an adult film star who said she'd slept with the former president, according to two of his attorneys.
Trump was not subpoenaed and is not being forced to appear in the Manhattan District Attorney's office probe, the defense attorneys told NBC News on Thursday. Trump's lawyers did not indicate whether he would testify.
The New York Times reported Thursday that Trump was told he could appear before the grand jury next week, and cited sources saying the DA's office had signaled to Trump's lawyers that he could face criminal charges.
A spokesperson for the DA's office declined to comment to NBC News.
Read the full story at NBCNews.com