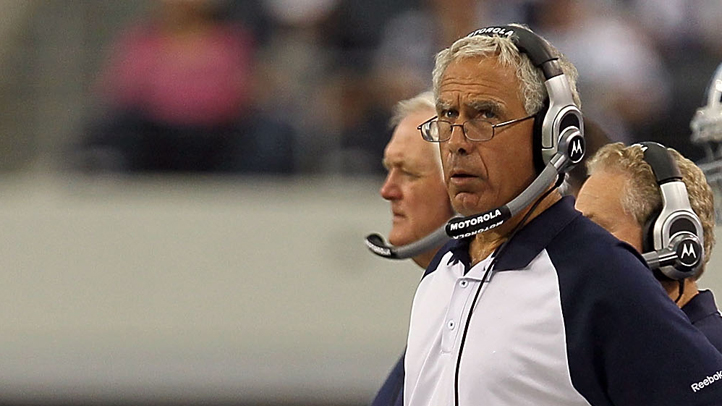 We have less than 48 hours to get our last few licks in on the dead horse that has become the UConn quarterback situation. As it stands, new coach Paul Pasqualoni has yet to name a starter. At this stage of the proceedings it has less to do with figuring out who's earned the right and more to do with something Pasqualoni said last week.
Basically, he's in no rush because while it might make media and fans happy it would also tip off the opponent (in this case, Fordham) and allow them to game plan accordingly.

Even if he's Mr. Mysterio for the time being, Pasqualoni is still anxious about the start of the season.
"There's not only that excitement — a new staff, new systems of offense, defense and special teams — but you're worried that you've covered everything and you've been able to expose the kids to everything they need to be exposed to going into a game," he said, according to the Hartford Courant. "There's plenty of excitement, but there's also that anxiety of, 'Did you get all covered and are they ready to play?' "

We're pretty sure Pasqualoni will be fine; he's got more coaching experience than the rest of the Big East combined (slight exaggeration), and he's surrounded himself with coordinators in George DeLeone and Don Brown who have a very good handle on what they want to accomplish not just week to week, but play to play.

As for the quarterbacks, it's now a three-man race among Scott McCummings, Johnny McEntee and Mike Nebrich now that Michael Box has left the program.

"At the end of the day, who you play and the selection of that guy is based on production," Pasqualoni said, by way of the Norwich Bulletin. "Really not any statistic or any other number. It's the guy who can be the most productive. It's not always the guy, who on paper, has the measurables, so to speak. It's more of the guy who can get the job done and have clutch production, move the chains and the kids have the chance to be confident with."

Whether obfuscation or the truth, Pasqualoni also said that his goal is to have three QBs ready to play at any moment during Thursday's game against Fordham, though the starting nod could go to the player with the most experience.

(Ironically, that turns out to be Box. McEntee is next even though he has yet to throw a pass in an actual game … although he has a ton of practical knowledge when it comes to trick-shot videos.)

At its most basic, it comes down to this: doing what the coaches ask.

"I think they're young, and with being young comes a learning curve," offensive coordinator George DeLeone said, according to the Bulletin. "And the learning curve with the great quarterbacks that I've been around is those guys have to learn how to study on their own, come in and watch film on their own, take points in the game plan and hone in on watching very specific things important to their position."
Thursday can't get here soon enough.