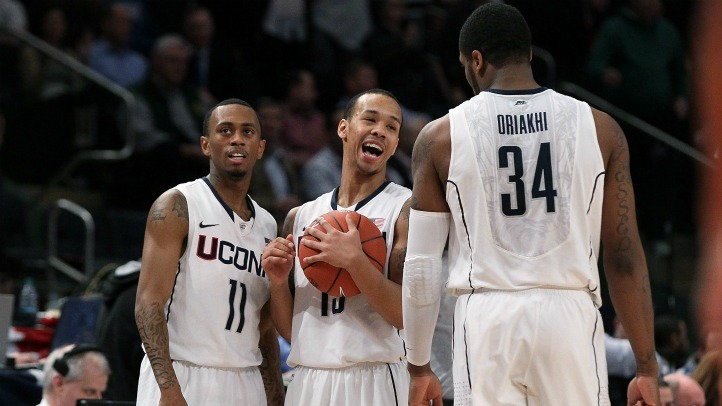 The Huskies lost five players to either the NBA or transfers. Jeremy Lamb, Andre Drummond and Alex Oriakhi were starters; Roscoe Smith was an important player off the bench; and Michael Bradley likely would have seen his playing time increase in 2012-13.

Now UConn is in full-on rebuilding mode. And while there isn't a high-powered class of incoming freshman to rely upon, the veterans could be capable of handling the workload until the younger players get acclimated to big-time college basketball. And that possibility explains why Adam Zagoria of ZagsBlog.com lists two Huskies in his top 21 players for next season: Ryan Boatright and Shabazz Napier.

It's a situation vastly different from what we've come to expect out of Storrs. After Kemba Walker left for the NBA following UConn's championship run in 2010-11, Lamb became the team's de facto go-to scorer. And now he's gone. As is Drummond, who struggled as a freshman but has the physical skills to be a probable top-5 pick in next month's NBA Draft. Even Oriakhi, who underachieved at times, has all-conference capabilities.

But they've all departed, along with Smith and Bradley, leaving behind few players with much in the way of actual experience. There's Napier, Boatright, Tyler Olander, Neils Giffey and … well, that's about it. Of the three, only Napier and Boatright were regulars last season. They also make up the Huskies' backcourt, which is critical to any team's success. In fact, you could make a convincing argument that for all of Drummond's talent, UConn would be better off with Boatright and Napier. Because you can have the most dominating big man on the planet but he's rendered useless unless somebody can get him the ball.

Honestly, both players deserve to make Zagoria's list, even if in the scheme of things it means little. They're not only UConn's two best players, they could turn out to be one of the country's best backcourts before their careers are over.

As for how the other Big East teams fared, here's a breakdown: Pittsburgh (2), Louisville (4), Rutgers (1), Syracuse (3), Notre Dame (1), Providence (1), St. John's (1), Seton Hall (1), Marquette (1), Cincinnati (1), DePaul (1), Georgetown (1), Villanova (1).