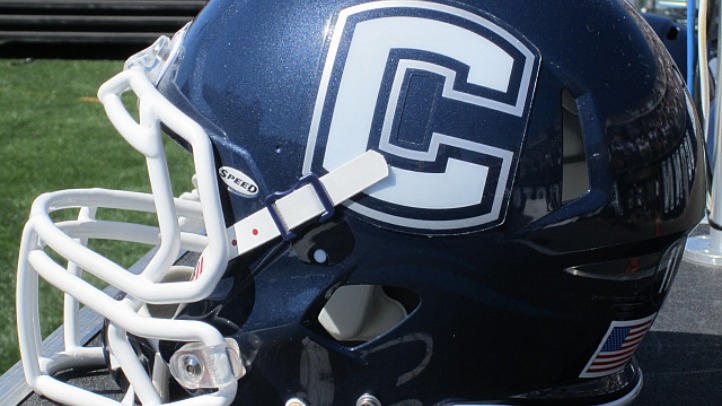 You may have heard something about the Huskies' search for a starting quarterback since it's pretty much all we've been talking about for six months now. Nothing was resolved during the Spring Game, and head coach Paul Pasqualoni -- true to his word -- said he'd take as long as he needed to make a decision.

We're more than a week into training camp as it's still a four-way battle.

All the candidates come with different skill sets: Johnny McEntee (trick-shot artist), Mike Box (only QB with game experience), Scott McCummings (most versatile), and Mike Nebrich (best option QB). The Connecticut Post's Neill Ostrout wrote over the weekend that Dan Orlovsky left UConn after the 2004 season and in the six years since, the Huskies haven't had a QB come close to putting up those kind of numbers.

(A quick refresher: Orlovsky became the starter his freshman season after Keron Henry went down with an injury. In 10 games he threw for 1,379 yards (128 for 269), 9 TDs and 11 INTs. He started every game as a sophomore, completing 221 of 366 throws for 2,488 yards, 19 TDs, 11 INTs. As a junior he was 279 for 475, 3,485, 33 TDs, 14 INTs. His senior season, he was 288 for 456, 3,354, 23 TDs, 15 INTs.)

So, yeah, the seven QBs who have followed Orlovsky at UConn haven't been nearly as effective.

"Orlovsky threw for 300 or more yards seven times over his final two seasons with the Huskies," Ostrout notes. "After his final such effort -- he threw for 445 against Syracuse on Oct. 30, 2004 -- another 60 games, including four complete seasons, passed before another UConn quarterback reached the 300-yard plateau."

Orlovsky, it turns out, was the exception. And it doesn't appear that the offense will return to those high-scoring days of yore anytime soon. But that's why George DeLeone is here (and, of course, the defense and special teams).

"My past four years here, it's been the same. We really haven't had one steady quarterback," wide receiver Kashif Moore told Ostrout. "I'm pretty much used to it." But Moore added: "I am expecting [this offense] to be more balanced. Our offensive coordinator (DeLeone), with his great experience in coaching, he definitely knows what he's talking about."

That's a start. Now the Huskies just need to settle on a starter. The Hartford Courant Desmond Conner writes that, as promised, Pasqualoni isn't in a rush.

"However long it takes, it takes. I don't see the coaching staff rushing to name a starter to satisfy the fans. My personal feeling is that after this week's scrimmage (Thursday) somebody will separate from the pack. Who it's going to be? I have no clue Ken but with Sept.1 around the corner one of the kids has to decide he doesn't want to compete for the job anymore and just steps up and takes it. Quite frankly, you need and want a guy with a mindset like that in that position."
Just remember: whatever happens in 2011, help is on the way in 2012.