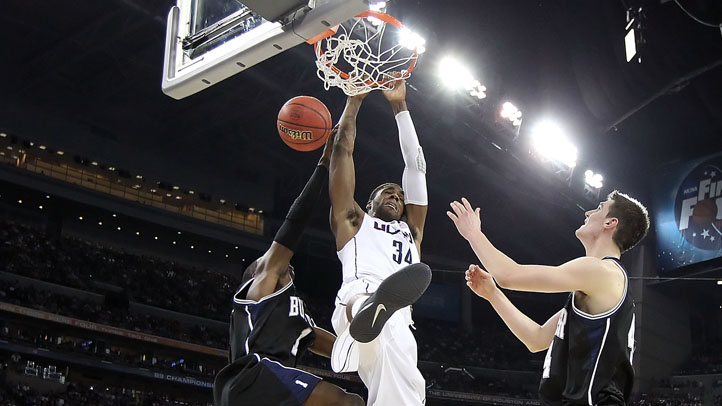 It was something of a revelation last week when Jeremy Lamb admitted that he had entertained thoughts of entering the NBA Draft after his freshman season. Luckily, he opted to return to UConn, but that's only temporary; there's every reason to believe he'll turn pro next June, and it will be hard for Coach Calhoun (or anybody, for that matter) to justify why he should stay.

But Lamb's not the only one who could bolt early for the NBA should he have a good 2011-12. Rising junior Alex Oriakhi, who like most of his teammates not named Kemba, was inconsistent until the final month of last season, could play himself into the NBA, too. He's big, strong, a good defender, and his offensive game will only improve with experience.

And while Oriakhi has aspirations of a pro career, for now he's focused on the Huskies. And like many of his teammates, he's playing in the Greater Hartford Pro-Am. The Hartford Courant's Mike Anthony caught up with him after Friday's session.

When asked about the NBA, something Oriakhi actually considered after last season, he said, "I thought I had too much of an inconsistent year. I definitely want to leave when I thought I had a consistent year and dominated as much as I could. I just thought there were too many nights where I felt like I wasn't even on the floor. I didn't think it was worth it to throw my name in the draft. I definitely thought about it. It crossed my mind. But at the end, I had to go with my gut and I felt it wouldn't be a good decision."

As for how he views next season in regards to the NBA, Oriakhi told Anthony, "My goal is not that I have to go to the NBA next year. I'll go as long as it takes. If it takes four years, I'll go. I would definitely like to go next year, but that's not even what I'm thinking about. I'm just thinking about doing whatever I can for the University of Connecticut and the rest will take care of itself."

Calhoun would certainly love to have Lamb and Oriakhi beyond next season but the reality is that neither will be around next summer. And if the 2011-12 season goes as it should, they won't have reason to be.