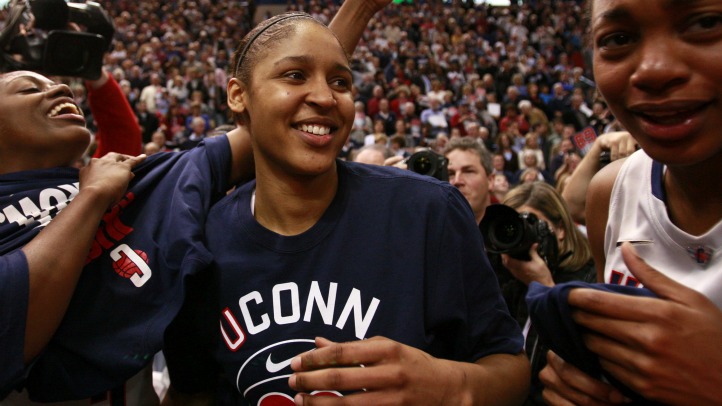 Maya Moore hasn't had a chance to catch her breath since her college basketball career ended in April when the Huskies lost to Notre Dame in the Final Four. A few weeks later, Moore became the first-overall pick in the WNBA Draft, and several weeks after that she made her professional debut with the Minnesota Lynx.

And just like college, Moore has been a difference-maker from the beginning. She's in the top 5 in several statistical categories among WNBA rookies, and she leads all forwards in the Western Conference in All-Star voting.

The league has produced a five-minute all-access look at what life is like for Moore, WNBA rookie, starting with the draft and leading up to the present. You can watch it here or by clicking the image below.

"She works as hard as she possibly can every moment," said Lynx forward Taj McWilliams-Franklin. She doesn't take a play off in practice. … So for us, that kind of player is just going to change the nature of our game."
We've heard that before.

And Maya sounded like, well, Maya. "My expectation is that we're all going to work really, really hard -- harder than we have because we've got a lot of things to prove this season. We have a lot of talent, and we have the pieces, it's just up to us to put it together."

WBNA legend Lisa Leslie knows that the league is relying on Moore. "We're looking for Maya to do great things," Leslie said. "This league is about the Candace Parkers and Maya Moores. Diana Taurasi and Sue Bird still hold it down but (Parker and Moore) are the future of this league."