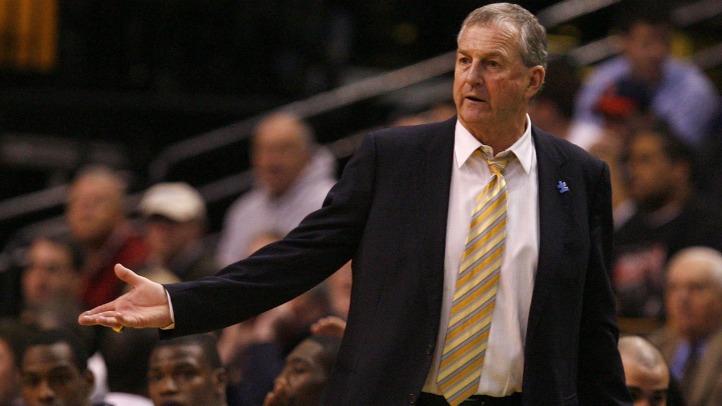 UConn men's assistant basketball coach Andre LaFleur is leaving after 10 years to take the associate head coaching job at Providence. According to a source speaking with the Hartford Courant, LaFleur is making the move because he felt like he might not get a shot at a head-coaching job if he stayed in Storrs.

"At UConn, LaFleur didn't seem to get noticed," the Courant's Zac Boyer writes. "Much of the credit for the Huskies' run this season went to Kevin Ollie, who retired after 13 years as an NBA player to become an assistant this season, and Glen Miller, a former assistant and head coach at both Brown and Penn who returned as the director of basketball administration — effectively LaFleur's old position. The perception, the source believes, is that LaFleur is not being well-respected both inside the program and outside."

Interestingly, during Kemba Walker's Tuesday press conference to announce that he was leaving for the NBA, Walker made a point to thank LaFleur for making him a better player and a person.

This also raises another issue: Calhoun's future at UConn. The 68-year-old coach hasn't yet committed to returning for another season (even though, you know, he has said on two different radio shows that he will be back). When asked last week about his plans for 2011-2012 Calhoun offered this: "I need to make sure the guy who is going to coach next year is going to be as enthusiastic as I was last year. If I don't feel I can do that, then I wouldn't coach. My job -- I haven't made a decision in any way -- is to get this team as ready as it possibly can to be the best team possible."

And those words were something of a Catch-22 for LaFleur who, according to the Courant's source, was concerned that if Calhoun decided to retire at the 11th hour, his assistants could find themselves in the same predicament the UConn football assistants were in after Randy Edsall left for Maryland: left behind and at the mercy of a new head coach who invariably will want to bring in his own staff.

And the alternative -- staying on UConn's bench -- wasn't an attractive option either, since it sounds like LaFleur felt like his opportunities would be limited.

It is peculiar that, historically, Calhoun's assistants haven't landed high-profile jobs. Calhoun, after all, has led the Huskies to three national championships since 1999, more than any active coach. And while gigs at George Washington, Maine, Quinnipiac and Stony Brook are respectable, they are not, as the Courant points out, on par with UTEP, UMass or Memphis, or Florida, Kentucky, Minnesota or Cincinnati, jobs that John Calipari and Rick Pitino assistants eventually landed with their bosses help.

So now UConn loses a coach that has been with the team for a decade, played a critical role in recruiting some of the Huskies' best players, and in the words of Walker, helped him "mature as a basketball player … [and] took my game to a whole new level." And we still don't know Calhoun's plans.
Sounds like the championship honeymoon is officially over.