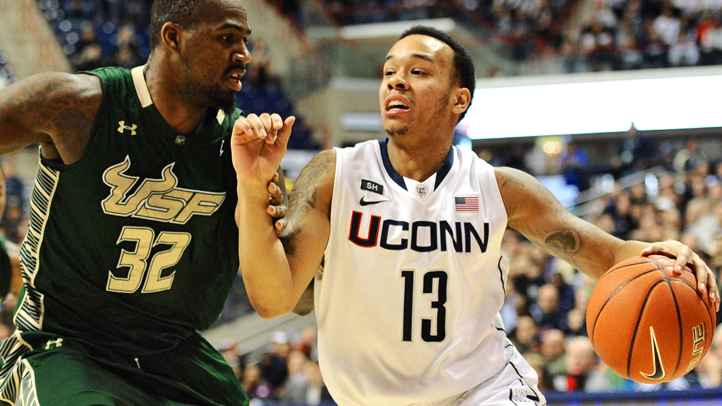 Connecticut coach Kevin Ollie says he loves that Shabazz Napier is not afraid to fail.
The junior guard missed a 3-point shot at the end of regulation Sunday, but made three of them in overtime to lead Connecticut to a 69-64 win over South Florida.
"To be successful in life, you've got to fail multiple times," Napier said. "I've failed so many times in my life through basketball that I just find ways to learn from that experience and be successful and try to do something better than I did last time."
Napier finished with 24 points, 11 in overtime, and pulled down eight rebounds. Ryan Boatright added 17 points for the Huskies (15-5, 5-3 Big East) who overcame a 12-point halftime deficit to win their third consecutive game.
The Huskies beat Providence on Thursday despite being outrebounded by 31, and won on Sunday despite shooting under 30 percent from the floor.
"Every game, we're finding different ways," Ollie said. I always like that left-hand column going up high, and 15-5, we'll take that."
Toarlyn Fitzpatrick scored 22 points and grabbed 10 rebounds for South Florida (10-11, 1-8), which dropped its fourth straight.
"It's tough, because we gave a winning effort," Fitzpatrick said. "We executed our game plan pretty decent, especially in the first half. So it's definitely tough, given our amount of effort and how bad we wanted to win."
Connecticut hit just five of its 27 shots in the first half, and trailed 27-15 at the break. But the Huskies scored 10 straight points and went on a 15-2 run to open the second half.
A 3-pointer from Boatright gave Connecticut its first lead of the half at 30-29 with 16:49 left. It was the Huskies' first lead since the game was less than three minutes old.
"We just came out and played terrible in the first half," Boatright said. "I think that's the worst I've ever seen us play as a team and individually. So, we definitely just had to pick it up and come out with some effort."
South Florida didn't let UConn separate and the teams went back and forth. Fitzpatrick's fourth 3-pointer put the Bulls back in front at 39-36. And a few minutes later, his spinning layup led to a conventional three-point play that gave the team a 48-47 lead.
Connecticut regained the lead, 51-50, on a pair of foul shots from Napier and extended that to two when Boatright hit one of two with 26 seconds left.
Anthony Collins hit a driving layup with 11.6 seconds left to tie the game, setting up a final play for UConn. Napier got a good, straight-on look from about 23 feet but missed, sending the game into overtime.
South Florida missed its first three shots in overtime before a dunk by Victor Rudd made it 58-54. But Napier responded with his third straight 3-pointer, and South Florida was forced to foul.
"You tell me we're going to hold them to 29 percent shooting, 33 percent from three, and we're going to outrebound them, and I'm thinking we're leaving here with a win," said South Florida coach Stan Heath.
UConn didn't have a rebound until the game was almost four minutes old, was outrebounded 43-41, and committed 10 turnovers. But the Bulls had 14 turnovers of their own, including nine in the second half and overtime.
The two teams combined to miss 12 of the first 17 shots from the field and the game was tied at 7 at the media timeout with just under 12 minutes left in the half.
But Fitzpatrick, hit four of his first six shots, including three from 3-point range. He led the Bulls on a 13-3 run that broke a 10-10 tie. He will tie the program record for most games played when the Bulls host Marquette on Wednesday.
The Bulls came in at the bottom of the Big East offensively, averaging just 53 points in conference play.
Connecticut improved to 10-1 against South Florida, including 7-1 in Big East play.

Copyright AP - Associated Press