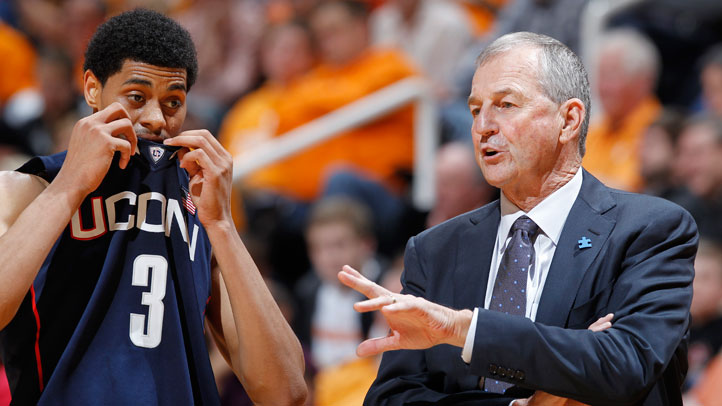 UConn, trying to beat the NCAA to the punch, suggested their own sanctions for annually low APR scores. The hope: the NCAA will consider the university's proposal instead of suspending the Huskies for the 2013 NCAA Tournament. There is still much to be decided, including if the NCAA will amend the rules to consider the most recent four-year period when determining APR success or failure (and handing down sanctions accordingly).

UConn's proposal, submitted earlier this week, includes (courtesy of the Hartford Courant):
-Forfeiting its share of revenue generated by Big East schools participating in the 2013 NCAA Tournament.
-Eliminating exhibition games and instead spending that time in study hall.
-Reducing the number of regular season games in 2012-13. UConn would schedule 23 games plus one exempt tournament (in this case, the three-game Paradise Jam) and therefore play 26 games. Under normal NCAA rules, UConn would be able to play 27 games plus the three-game tournament (30 games). The school is proposing a reduction of four regular-season games. That time not playing basketball, three hours a game, would also be spent on academics.

-Barring coach Jim Calhoun from making off-campus visits to recruits during the autumn contact period.

-Have Calhoun bring a current or former NBA player who has completed his undergraduate degree to inner-city schools for a series of sessions to stress the importance of academics.

Seems sufficient given that the Huskies' most recent APR scores are expected to exceed the 900 minimum, and the program's last for APR scores would also be above the 900 floor. But the Courant's Jeff Jacobs thinks the self-imposed punishments go way too easy on coach Jim Calhoun, the man mostly responsible for putting the program and university in this predicament to begin with.

"Short of Jim Calhoun's willingness to sit out at least the first weekend of the 2013 NCAA Tournament, it's hard to see how the governing body for college athletics will buy into the argument that UConn is making all the relevant sacrifices for its past classroom sins," Jacobs wrote Friday. "… Much of the criticism that echoed through the Internet world the past 24 hours has centered on UConn's going too far off the margins to beg/pressure the NCAA into allowing the school into 2013 March Madness.

University president Susan Herbst sees it differently.

"It's not like that at all," she said. "The NCAA opens a portal — and there are bunches of schools beyond us involved — for a waiver request. It's well known that they want institutions to show that they are on top of a situation and are willing to penalize themselves. … We went pretty harsh in our self-imposed penalties."

It's hard to disagree with that last sentence. Jacobs even points out that, based on the bullet-points above, UConn stands to lose "Upward of $2 million would be the difference between a profit and loss for the athletic department this past year." That's huge, even for a big-time college program.

But Jacobs also thinks Calhoun gets off easy. He asked Herbst if she discussed with the Calhoun the possibility of sitting out a few tournament games.

"Yes," she said.

When asked if Calhoun refused, Herbst offered this: "No, no. We talked about a lot of things and what made sense. Coach already has had $100,000 taken away from him [plus another $87,500 in bonuses for failing to meet standards, per his contract]. … I don't think it's productive for our students, who need their coach, to keep pulling him out. He's integral to the athletes' lives."

We have no issue with the self-imposed punishments UConn presented to the NCAA but let's be honest: Calhoun, whether he's integral to people's lives or not, has a lot to do with the program's current predicament. Whether that responsibility is implicit or not doesn't really matter. He's in charge, the buck stops with him. We're not suggesting he be suspended, but Herbst's argument would be a lot more believable if she didn't appear to be cutting Calhoun some slack.

To the program's credit, they have made strides to shoring up the academic shortcomings. It's just that it should've never gotten to this point before somebody realized there was a huge problem and decided to finally do something about it.