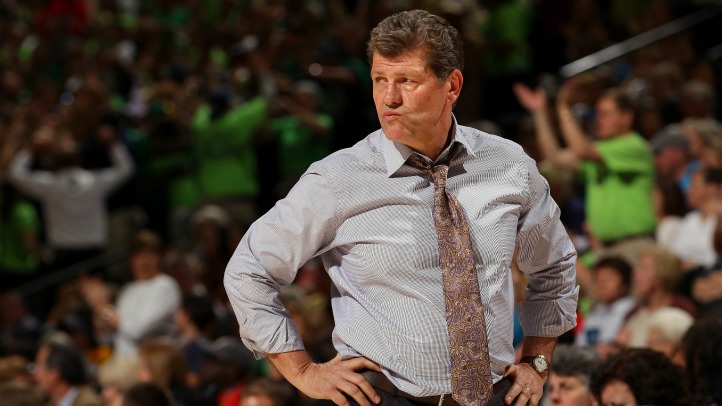 UConn coach Geno Auriemma has never been one to hold his tongue, especially if he thinks something needs to be said. It's one of the perks that comes with being one of the most successful coaches in women's basketball history. But we imagine Auriemma was always like this, always speaking his mind, and usually people were better off for it. This time is probably no different.

In the wake of, well, just about everybody but the Huskies leaving the Big East, Auriemma offered up his version of "Don't let the door hit you on the way out."

"I hope they all leave tomorrow," Auriemma said via the Hartford Courant. "But they can't, because we have to play out the [2012-13] schedule. But as soon as it's over, let them go and do what they need to do, just like Syracuse, Pittsburgh and West Virginia did. West Virginia did it the right way. They said they didn't want to be in the Big East any more and said, 'See you later, I'm out of here.'

"I hope they all take that approach."

Auriemma's right. If these schools have grander visions of their futures, there's no need in waiting around in the Big East. The problem, of course, is that it's easy for Auriemma to make such statements because his Huskies won't be affected by the conference reshuffling. His years of success building this program transcends conference affiliations and we'd imagine he could recruit just as well if UConn played their games at the local Y.

That said, the coach understands the economic realities of what's going on here, including why the seven Catholic, non-football-playing schools bolted the Big East.

"The Catholic schools did a really good thing," he said. "They stayed at the table for as long as it took them to make as much money as they could. And once they saw all the money running out, they decided to go play somewhere else. Had some of them managed to vote appropriately over the last 10 years, we wouldn't be in the situation we are now.

"They did what was best for them, just like a lot of Catholic schools do. They like to say the state schools are the big bad guys. I've heard my share of that in my time in the conference."