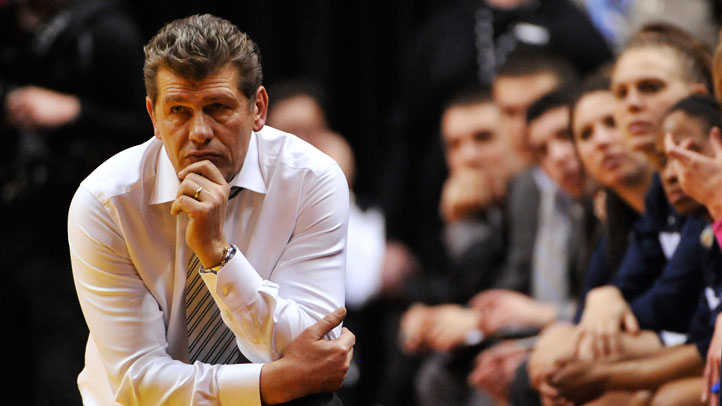 On Monday, UConn coach Geno Auriemma was sued for allegedly trying to forcibly kiss a female employee of the NBA's security detail during a basketball tournament in Russia in 2009, and then allegedly asking that the woman not be a part of the security team during the upcoming London Olympics.

Auriemma, 58, will coach the women's national team in London this summer. And while he recently told SNY.tv that he was "nervous" in advance of the world's biggest sporting spectacle, he spoke soberly about the impending lawsuit.

"In the end, everything will come out," Auriemma told SNY Tuesday. "This issue is going to be dealt with by attorneys and people who live in that world. Me … my focus is making sure that everything that I do with my family, with my team at UConn, with my Olympic team and everything going forward, that that's my focus right now as opposed to anything else that might be going on.''

Any concerns that the allegations could tarnish Auriemma's otherwise impressive legacy is something that he understands that he can't control. "I think any time people are talking about you whether it's good, whether it's bad, whether they're complimenting you or whether they're criticizing you, I think all that has an affect on you and your friends and your family," he said. "And I guess that's just the price of being in the public eye in 2012 America.''

As for the ramifications to those associated with Auriemma but not directly involved in the lawsuit, there's the possibility that his former players might be called to testify should the case come to court. "It could take two to three years for the case to be heard," Randolph M. McLaughlin, counsel for New York law firm Newman Ferrara LLP, told the Hartford Courant. "There needs to be a discovery phase, we'll need to bring Auriemma in, put him in a witness chair and take his deposition, along with those of any players who were present [since Auriemma's hiring by USA Basketball in 2009].

"It can be a very nasty business. It could be settled before [the London Olympics in August], but it all depends on what USA Basketball and the NBA want to do. I'm willing to have a conversation, but no one has reached out."
Courant columnist Jeff Jacobs has known Auriemma for 18 years and writes that "I have been in his company in many social settings, almost always with a handful of media, probably three times a year. So that's at least 50 times. He enjoys the attention. Saw him drink wine. Saw him smoke cigars. Heard him tell stories for hours. Saw women occasionally approach him like he's a rock star. Saw those women walk away alone."

Wherever the truth lies and whatever the outcome of the lawsuit, this much we know already: accusations like this are hard to shake. It's not fair, but, as Auriemma noted wistfully, "that's the price of being in the public eye."