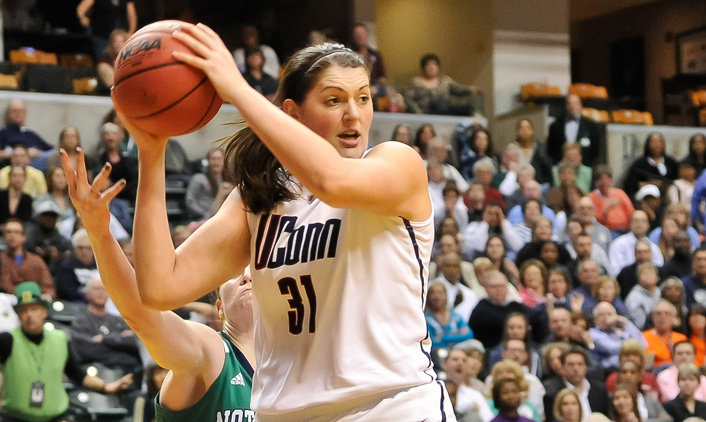 There were no expectations for the men Saturday. The way the season has unfolded, it was wholly reasonable that they could lose to Marquette (and they did). The women, on the other hand, are supposed to win virtually every time they take the floor. Especially when they're at Gampel against a lesser opponent and set to break another record (this time, their 100th consecutive home win).

In one of the biggest upsets in a long time, Geno Auriemma's troops lost 57-56.

They beat us in every key area," Auriemma said via the Hartford Courant. "When you hold a team to 57 points, you are supposed to win. I mean 57 points is not a lot of points [to allow]."

In general, no, 57 isn't a lot of points. But the Huskies typically keep opponents in the 30s, only allowing more than 50 points seven times this season, and that includes their three defeats. Such losses are always surprising because the Huskies, one of the most skilled teams in the country, had been playing well recently.

"Could I see this coming? I don't know," Auriemma said. "We've played pretty well. But we need to play well on all cylinders to beat a good team, and St. John's is a good team. On some nights, you just have to figure out how to win. Bria [Hartley] and Kaleena [Mosqueda-Lewis] usually make shots, but combined for 8-for-25."

The final week of the season shapes up like this: Pitt (winless in the conference), Marquette and Notre Dame. In the scheme of things, the loss changes little; UConn is now 24-3 and 11-2 in the Big East. The Huskies still trail the Fighting Irish in the Big East, and even if they win their regular-season finale matchup, Notre Dame will head into the conference tournament as the No. 1 because they had previously beaten UConn.

But that's hardly worth mentioning; there's a huge difference between going into the Big East Tourney as a No. 2 seed (or No. 3 should St. John's win out and the Huskies lose to the Fighting Irish) and, like the UConn men, wondering if you'll even make the NCAA Tournament.

Also unlike the men, Auriemma is in a position to motivate his players without the fear of the season unraveling. He's done it previously, coaxing freshman Kiah Stokes into getting the most out of her ability and he mentioned it again in the aftermath of Saturday's loss, this time targeting sophomore center Stefanie Dolson.

"I don't think Stefanie Dolson has had a good year at all, from day one," Auriemma said. "I would think she would be the first one to tell you. And if we can't count on her to score in the post, then it puts so much pressure on our perimeter players. Other teams know that now. St. John's trapped her really hard when she got the ball in the post, and we didn't do a great job handling the ball.

"If you had asked me about this two months ago, I would have said you were crazy, but right now if we throw the ball to Kiah Stokes we are probably going to get a better result than if we throw it to Stefanie Dolson. We're going to have to address this in practice because [post play] is not anywhere close to we're I want it to be."

We now fully expect Dolson to go off, just like Auriemma planned it.