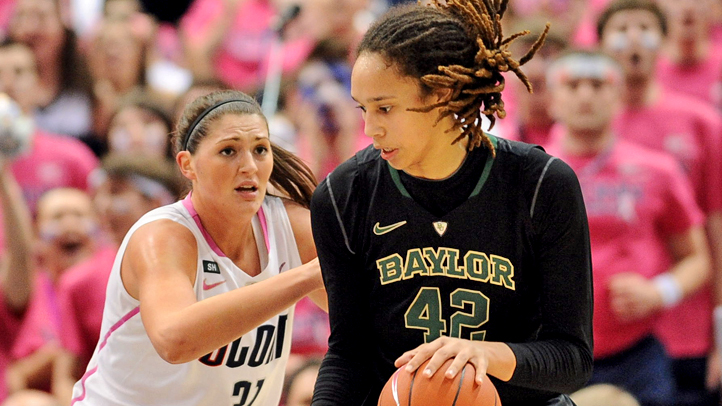 The Huskies couldn't have hoped for better out of the gate; third-ranked UConn jumped out to a double-digit lead against No. 1 Baylor and Brittney Griner, only to watch the lead -- and the win -- evaporate in the second half. By the time it was over, the Bears left the XL Center with the 76-70 win and their No. 1 ranking still intact.

Griner, considered the nation's best player, scored 21 of her 25 points after the break (including her 3,000th career point). Baylor extended their winning streak to 23 games after overcoming a huge deficit for the second time in as many meetings with the Huskies, who led by 11 last season in Waco, Texas before eventually losing.

For sophomore forward Kaleena Mosqueda-Lewis, who scored 26 points and added 15 rebounds, it was deja vu all over again.

"It's the second time where we let the game slip away," she said. "We had them last year at Baylor and gave it back. Today, I don't know how much we were up, but we came out and we were killing them on the boards, getting stops on defense and then gave it back again."

Coach Geno Auriemma, who has never shied away from tough regular-season games to prepare his club for the rigors of tournament basketball in March and April, hopes the loss helps to galvanize the team down the stretch.

"I've always said this is why you want to play these games at this time of the year because if we didn't play this game tonight, we might have played a team we beat 100-35," said Auriemma. "Playing a game like this with a month before the NCAA tournament, I can't think of anything better to do at this point of the season. Absolutely it's going to help. There's no way it can't help you."

One silver lining: Auriemma glimpsed what Mosqueda-Lewis can do against one of the best teams in the country. And he spoke glowingly of his sophomore after the game.

"I told Kaleena Mosqueda-Lewis that this was the kind of game Maya Moore used to have," he said. "The only difference is that there was about a seven minute stretch where Kaleena wasn't involved. Tonight was the kind of game were Maya would've scored 50. She is just learning how much more she can do, than she did tonight.

"Tonight, she was phenomenal," Auriemma continued, "but if I showed you the film there would be things you can see that she has to work on. We could have easily won this game but we're not smart enough to win it yet. Individually, I think our team has to understand that as individuals we're not good enough to beat this team. It has to be a collective effort like it was during the first 15 minutes of the first half."

The hope, of course, is that Mosqueda-Lewis becomes that player in the coming weeks.