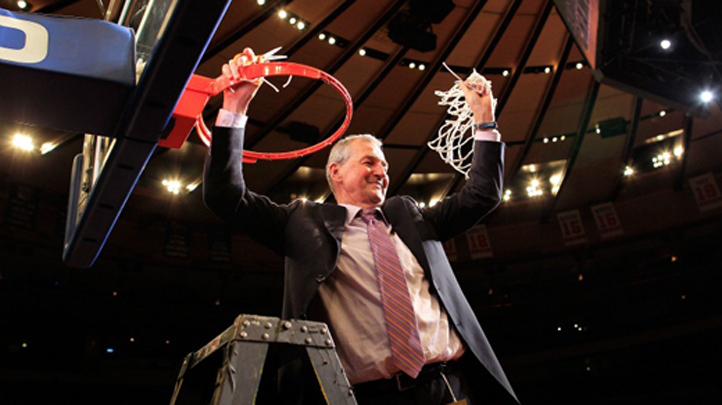 The more the merrier. At least when it comes to the Big East Tournament starting with the 2013-14 season (yep, that still means that, thanks to NCAA sanctions, the Huskies are still ineligible next year). The conference's basketball coaches have endorsed a plan to have every team compete in the postseason tournament. A year from now, the Big East will include 18 basketball-playing members, assuming Pitt and Syracuse smoothly transition to the ACC next summer.

Logistically, fielding an 18-team tournament is not only a headache for organizers, but also coaches concerned about having to play so many games in such a short period and right before the NCAA Tournament. Of course, the poster kids for pulling it off without breaking a sweat are the 2010-11 UConn Huskies, who won five games in five days to capture the Big East championship and then reeled off another six games to win the program's third national title.

The Orlando Sentinel reports from the league meetings in Ponte Vedra Beach, Florida that the Big East is likely to accept the coaches request for an 18-team format but there's still the issue of figuring out how to accommodate everyone.
Big East teams typically end their regular season on Saturday. Unless the Big East can squeeze in five games on the Tuesday of tournament week — the traditional opening day of the tournament — the league will have to play at least two play-in games on Monday.

The Big East's contract with Madison Square Garden does not give the league access to the venue until Tuesday, so the conference would have to renegotiate its contract with the arena or hold the games at a nearby venue so that winners would be available to play in the full tournament the next day.
"The Big East basketball tournament at Madison Square Garden is such a unique and really special experience," Central Florida athletic director Todd Stansbury told the Sentinel. "We really want our basketball team to be able to experience it. I think it's one of many reasons we're really excited about this move to the Big East."

Despite the possible headaches associated with inviting everybody to the party, Villanova coach Jay Wright understands that the Big East is currently in no position to be making demands.

"In the past, when we had more stability, you would go for what you thought was best for men's basketball or best for your school," he said via the Sentinel. "Now everybody just says we have to do what's best for the whole conference."