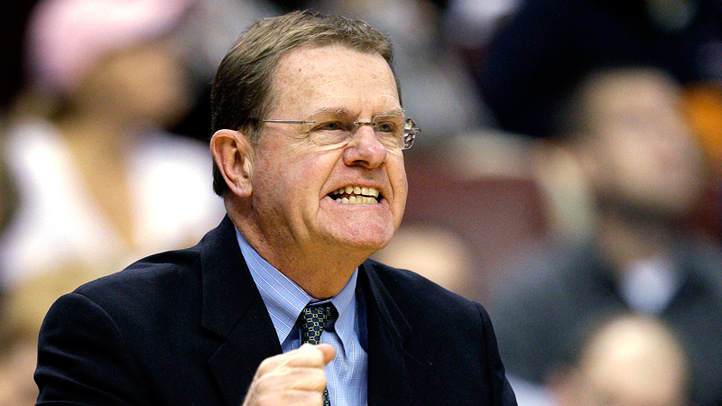 When the Huskies take the court Wednesday at 9 p.m. in Tampa, Florida to face USF in their first Big East game of the season, they'll do it without coach Jim Calhoun, who is serving an NCAA-mandated three-game suspension for recruiting violations.

That means longtime assistant George Blaney will be in charge, a role he's assumed in the past. Now the question becomes, can Blaney, who isn't nearly as animated on the sidelines as Calhoun, strike the right balance of histrionics and steely resolve to motivate the players.

Last week, the New Haven Register's Dave Borges wrote about Blaney's history as UConn's interim coach.

"Quite simply, Blaney's calmer, more reassuring style is seen as a boon if the Huskies win, and as a detriment when they lose," Borges wrote on December 23. "There's never been a better example of this than two years ago, while Calhoun was in the midst of missing six games for 'stress-related 'issues."

During that season under Blaney, the Huskies defeated Texas only to lose to Providence a few nights later.

"(Calhoun) would have given them a jolt, I'll tell you that," Blaney said at the time according to Borges. "I would have liked to have had him there, that's for sure."

Calhoun missed last year's game against Marquette after his sister passed away. The Huskies lost and Blaney took the blame.

"I probably ran everybody too many minutes," Blaney said. "We needed to get a little bit more production, but some of the guys that came in and didn't get it done when they were asked to do it, so we stayed with the guys that were doing it."

Borges points out that UConn is 20-9 in games in which Calhoun isn't on the bench for the entire game, 9-9 for games he misses altogether, and 7-8 with Blaney serving in an interim capacity.

It's not surprising that Calhoun would turn to Blaney again for this three-game stretch but we wouldn't have been shocked if Kevin Ollie was tabbed for the job, either. He appears to be Calhoun's heir apparent, and no time like the present to get his feet wet and see what he can do. Except it didn't happen.

Whoever is coaching, the Huskies sound ready.

"I can't wait," freshman big man Andre Drummond said last week via the Hartford Courant. "We've been working on having that killer instinct and just stomping teams."

Freshman Ryan Boatright added "We're going to go out there and get those three games for [Calhoun]."

The fun starts Wednesday and then the Huskies face St. John's on New Year's Eve and Seton Hall on January 3. Calhoun can return to the bench against Rutgers on January 7.