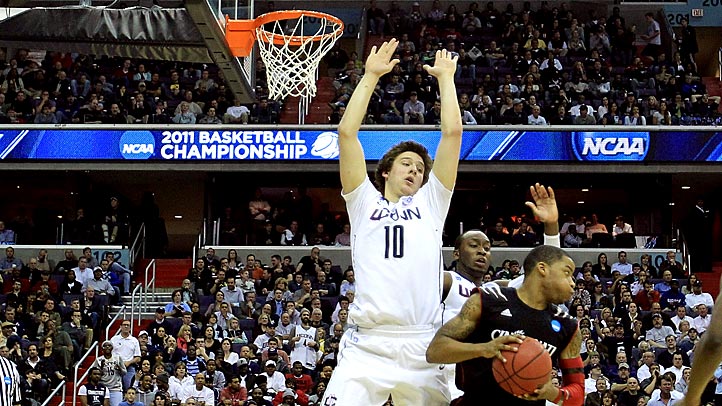 Junior guard Ryan Boatright couldn't have been any more direct when talking about Tyler Olander, the UConn big man suspended indefinitely from the team earlier this month after a DUI charge: "We need him to win a championship."

The charge was dropped this week, and now the question it's if but when coach Kevin Ollie will reinstate him. Ollie spoke about Olander Wednesday.

"First and foremost I want Tyler to get better as a person, as a young man," Ollie said, via the Hartford Courant. "That's first, and last. I'd like him to play, but it's on him. I'm evaluating him each and every day. He's doing a great job so far, with the things we're asking him to do. … We all have our vices, you have to sacrifice them.""

Senior point guard Shabazz Napier, who is also Olander's roommate, said he thought the big man did the right thing on Sept. 7, driving for a friend who had too much to drink. Olander was arrested for driving under the influence but because his blood alcohol content test showed him under the legal limit, the charges were dropped. He did have to pay a $75 fine for driving without a license.

"I know people say Tyler made a bad decision," Napier said, "but I think he made a good decision. He drove to help out some people who couldn't drive. He did what he thought was the best thing he could do. Sometimes you're in situations where you're helping people you can get in trouble yourself."

With Olander's fate hanging in the balance, the Huskies will be without another big man from last year's squad. Enosch Wolf has signed with a German professional team, leaving DeAndre Daniels, Phil Nolan and Leon Tolksdorf, and freshman Amida Brimah, who may be forced into action because of the lack of depth. Ideally, another freshman, Kentan Facey -- who is considered the more polished of the two -- will be cleared by the NCAA. His eligibility is currently under review.

According to the Courant, Facey hopes to hear something either way in the next few days.