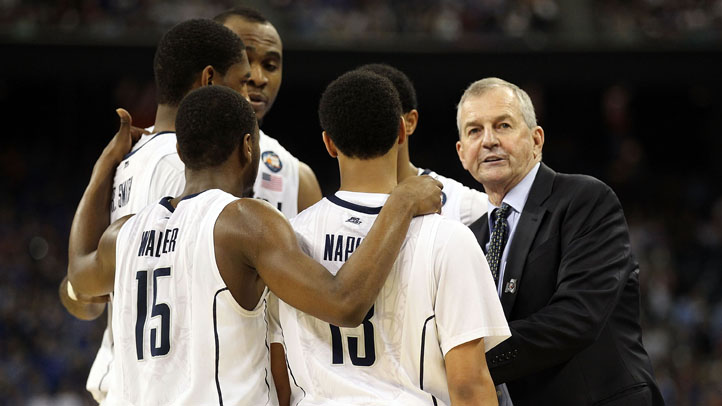 On Friday, freshman point guard Ryan Boatright won the First Night slam-dunk contest … over freshman big man, Andre Drummond. And while that's certainly noteworthy, even if only from a physical standpoint, the reason Boatright is in Storrs is to help the Huskies defend their national title.

So when head coach Jim Calhoun mentions Boatright in the same breath as Kemba Walker (though, smartly, he doesn't compare them directly; that's not fair to anybody), it gets your attention. He comes from Chicago (Kemba's from New York City) and showed in high school the ability to take over games. As a senior, Boatright averaged 31.2 points, scoring more than 40 seven times, including efforts of 55 and 63. This from a guy who might be six feet tall. But he doesn't consider his slight build a problem.

"That came from my upbringing," Boatright said, via the Hartford Courant. "They told me every day, 'don't you let anyone bully you out there.' It was mostly my mamma. If she found out some kid punked me, bullied me, she'd beat me up herself."

Sophomore Shabazz Napier, who was in a similar position 12 months ago, has been impressed by Boatright in the weeks leading up to the start of practice.

"He's from Chicago," he said, "and he played street ball there. When he trash talks, it's nothing negative. It's all positive. He's pushing guys to get better, letting them know if they're going to beat him they're going to have to put the work in. When he got here, he put the work in — then he started letting us know how he feels."

And like Walker helped Napier navigate his first year of big-time college basketball, Napier seems prepared to do the same for Boatright. "I've learned a lot from Shabazz, he's a great player and he's a great point-guard, period," Boatright said. "We're like brothers already. But when we're out there competing, it's war."

In addition to Walker, Calhoun, also sees similarities between Napier and Boatright. Details via the Courant's Dom Amore:

"Calhoun also sees similarities between Napier, 6-1, and Boatright. Whenever he walks by Napier, he puts a finger to his lips — 'shhhhh' — which, he says, is meant to preempt him from saying something silly. Boatright also 'always feels the need to say something and that's nice, we appreciate that … He does need to realize we only have one head coach.'"